Everything tagged
Latest from The Spokesman-Review
Many doctors recommend that patients take a daily dose of aspirin to reduce their risk for a future heart attack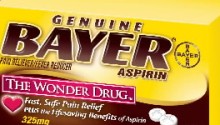 or stroke. Now three new studies suggest taking the cheap powdery pill every day can also reduce a person's risk for cancer, or prevent the disease from getting worse in patients who already have it. The studies, all led by Professor Peter M. Rothwell, a professor of clinical neurology at the University of Oxford in the U.K. are published in the March 20 issue of The Lancet and The Lancet Oncology/Ryan Jaslow, CBS News. More here.
Question: Do you take an aspirin daily?
Each morning, my email is filled with press releases and stories from medical, elderly and death and dying sources, because of this blog.
Many of the medical websites offer summaries of research on how to keep healthier, longer. But it can drive you crazy figuring out what's good, what's bad, what's in, what's out.
Today on MedlinePlus, Vitamin B12 is hot. If you have a lot, your brain looks bigger and better. Not so much? People who had signs of B12 deficiency had lower scores on their tests, and also had a smaller brain volume. According to one of the researchers, these findings support the idea that low B12 could put people at risk for brain shrinkage and difficulty thinking.
Aspirin is on the bad list today. Seniors who take aspirin daily are twice as likely to have late stage macular degeneration, an age-related loss of vision, than people who never take the pain reliever, a new European study reports. The study, published in the journal Ophthalmology, included Norwegian, Estonian, British, French, Italian, Greek and Spanish seniors.
Who and what do you believe?