Everything tagged
Latest from The Spokesman-Review
The abandoned backpack found Monday along the route of Spokane's annual Martin Luther King Jr. march contained a bomb capable of inflicting "multiple casualties," the FBI has confirmed. The Federal Bureau of Investigation's terrorism task force is offering a $20,000 reward for information leading to the arrest and conviction of those responsible for planting the bomb. The FBI on Tuesday issued a bulletin asking for the public's assistance. Frank Harrill, special agent in the charge of the Spokane FBI office, would not discuss what specifically made the bomb so dangerous but said the investigation has become a top priority/Thomas Clouse, SR. More here.
Reaction?
The FBI is seeking information connected to the identity of the person or persons seen with this Swiss Army-brand backpack. The backpack, which was found along the Martin Luther King Day parade route in Spokane on Monday, contained an explosive device capable of inflicting casualties. The T-shirts were contained in the backpack. The backpack was found on a bench at the corner of North Washington Street and West Main Avenue. SR story here. (Photo courtesy of FBI)
Back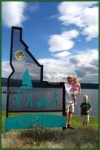 in my youth, I hiked regularly with my scout troop. But the packs we lugged around back then were basically the equivalent of a medieval torture device, designed to bruise kidneys and misalign your thoracic vertebrae. Jump forward 30 years, and I found myself reluctantly shopping for a new backpack at REI. Coincidentally, the same place that sold me that horrific metal-framed monster of long ago. Only this time, everything has changed. I walked out of the store with an Osprey Kestrel 48 backpack that literally felt like a comfy old quilt had been lovingly wrapped around my hips and shoulders. Apparently, backpack technology had made some huge advances in the past three decades/Idaho Dad, A Family Runs Through It. More here.
Question: When and where did you last go backpacking?