Everything tagged
Latest from The Spokesman-Review
A Spokane man convicted of stealing money from a homeless woman who gave him her savings to rent a home is headed to prison.
But it wasn't the theft that earned Unters "Chuck" Love, 58, a 27-month sentence, it was a bail jumping charge he accrued after he bonded out of jail on his theft charges.
A jury recently convicted Love of six counts of second-degree theft, but he faced only 14 months in prison for those charges. He'll serve that sentence the same time as his sentence for bail jumping.
He'll also be credited for 10 months spent in jail and be eligible for typical sentence reductions through the Department of Corrections.
"He'll do another eight months and then be out and about, no strings attached," said Deputy Prosecutor George Gagnon. "Thanks, state Legislature."
Gagnon points to Love's long history of cons and is lack of remorse when describing a man he said "was a pleasure to prosecute."
"He's being doing this or 20 years it's just the first time since 1991 that we have said no you're not getting a deal, you're going to trial"
Love has at least 107 actions against him in civil courts.
Love denied the charges in an interview at the Spokane County Jail, where he is awaiting transport to prison.
"I never did anything to them except help them try to get into a home," Love said of the victims.
Love said his victims would have been able to move in to their homes had the police not intervened.
But Gagnon said Love is simply a conman who had no problem stealing money from homeless people and trying to sell or rent properties he doesn't own.
Twelve Spokane County residents apparently agreed. They convicted him April 12 after a short trial in Spokane County Superior Court.
Love said his defense was incompetent, and that the truth will soon be known.
"There is a lot of corruption going on and it's going to come out in the appeal," Love said. ""The courts and the police department, they basically coerced these people to say what they said."
Love filed a complaint against Gagnon to the state bar association, but it was dismissed.
In the interview last week, Love declined to discuss a stadium project he proposed in Airway Heights back in 2003.
Love had signed a contract with the Kalispel Tribe to lease 20 acres next to the tribe's Northern Quest casino, but he refused to talk to reporters about his bankruptcy filing or earlier felony convictions for theft and check-bouncing.Read more in the story from 2003 here.
Love also was involved in a scheme in Yakima in 2004 involving a football league.
A citizen helped officers find a fleeing fugitive early this morning in west Spokane, police said.
Christopher A. Hill, 31, was wanted on suspicion of bank robbery in Pendleton, Ore., and on a $250,000 bail jumping charge related to a meth possession case in Benton County when the Pacific Northwest Violent Crimes Task Force told Spokane patrol units he was in the area about 2 a.m., according to a news release.
Hill drove away from police in the area of U.S. Highway 195 and South Thorpe Road, but an alert citizen who watched the chase from her home called 911 and said she'd seen the man turn his headlights off and turn down Canyon Woods Road.
Hill again fled officers but high-centered his truck on a boulder, police said. Spokane police K-9 Leonidas found Hill about 60 feet from the truck. He was booked into jail on the warrant, as well as a new charge of attempting to elude police and harming a police dog for allegedly punching Leonidas and trying to pry open the dog's mouth, according to court documents.
"This is yet another fine example of Spokane's citizens assisting officers in apprehending a wanted individual," Officer Teresa Fuller wrote. "Our community is always doing a great job of being that extra set of eyes and ears for us so, "THANK YOU!""
Six days after tanking a plea deal by professing his innocence, a Spokane man who drove the suspected gunman from a murder in January pleaded guilty to four felonies but maintained he played no role in the gang-related slaying.
"In my heart, I know I didn't murder this man or help murder this man," said Cedr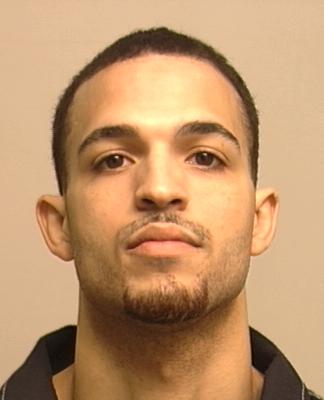 ic E. "Dirty" Burton.
Burton, 23, said he knew the victim, John S. Williams, "personally."
"He was a nice guy to me, too. He was real cool," Burton said. "…I do feel sorry for him."
He lamented the lifestyle that leads to shooting deaths like Williams'.

"I'm from Cali. I see it constantly, everyday," Burton said.
He said he felt Williams' family's pain because people close to him have been murdered, too. He mentioned his cousin, Aaron Bascomb, who was shot to death in Los Angeles in April.
"I know the severity of what you have to deal with this," Burton said to the members of Williams' family who sat in the courtroom. "I've lost so many people I grew up with…We go through it constantly down there." 
Superior Court Judge Annette Plese approved Burton's plea deal, which sentenced him to 60 months in prison. He'll serve the sentence the same time as a 63-month sentence for a second-degree assault conviction handed down by a jury last month.
He pleaded guilty today to harassment, bail jumping, and two counts of rendering criminal assistance. The deal reduced robbery and assault charges to rendering (Burton drove a man who robbed and assaulted a woman from the scene) and dropped an additional count of bail jumping. The harassment charge stemmed from text messages Burton sent to the mother of his 14-month-old daughter.
Burton said his child is his impetus for resolving his criminal charges quickly.
"Being deprived of your freedom, it teaches you a lot," he said.
Burton has a previous assault conviction for a 2005 gang shooting in which Demetrius Route was convicted of murder and Deric D. Burton was convicted of conspiracy to commit first-degree assault and two counts of second-degree assault.
That conviction coupled with his assault conviction from last month makes two strikes for Cedric - one more and he'll be sent to prison for the rest of his life. His public defender, Mark Hannibal, said Burton understands that.
"He is a young man," Hannibal said. "He does have a few goals in his life; one is to continue his education."
Burton said he trusts in God and said though he's made a lot of mistakes, "Regardless of what's on my record, I've never intentionally assaulted anyone or robbed anyone."
"I was becoming a victim to the lifestyle I was getting myself into," he said. "A second of freedom, a second with my daughter, it's worth more than a lifetime of bondage."
Burton acknowledged Williams' supporters as he was taken from the courtroom back to jail.
"God bless you guys," he said.
Williams' mother, Cindy, said she appreciated Burton's kind words about her son and said she isn't sure Burton even knew who'd been killed when he drove the alleged shooter, Edward L. "TD" Thomas, from the party at 5405 N. Crestline Jan. 17.
Thomas, who was arrested Thursday in Los Angeles, is charged with first-degree murder and attempted first-degree murder for John Williams' slaying and the attempted slaying of his son. Police say Thomas had a gun pointed at him by a gang member associated with Williams and felt he needed to retaliate.
Past coverage:

June 4: Seven face charges in shooting death
May 21: Lawyer: Fugitive was in Cali for cousin's funeral