Everything tagged
Latest from The Spokesman-Review
Climate change: True or false?

Tis' the question of the season and one we stake our lives on.


A disturbing new survey said the number of American citizens who believe climate change is related to human caused pollution is at its lowest in three years, 57 percent, down from 77 percent when "An Inconvenient Truth" was released. Climate professor Andrew Weaver blamed it on "a combination of poor communication by scientists, a lousy summer in the Eastern United States, people mixing up weather and climate and a full-court press by public relations firms and lobby groups trying to instill a sense of uncertainty and confusion in the public."

We caught some of that confusion all week. More at The Spovangelist. After reading a list of the eight most dangerous climate deniers. And during the Yes Men publicity stunt which was aimed at the U.S. Chamber of Commerce's aversion to science-based climate policy. James Hoggan, author of "Climate Cover-Up: The Crusade to Deny Global Warming," told Amy Goodman, "The PR stunt wasn't pulled off by the Yes Men; the PR stunt is basically being pulled off by the U.S. Chamber of Commerce, and it's been going on for decades."

AT&T and Toyota helped fund a $100 million campaign by the U.S. Chamber of Commerce to kill clean energy and health care in Congress. Oil, gas and coal interests spend $300,000 a day lobbying the government and will step it up as climate legislation is drafted and Copenhagen approaches. It's easy to feel bogged down under the weight of their crude logic.

A widespread call to environmental action couldn't have come soon enough.  

Saturday at noon saw a group in Riverfront Park take part in 350. Around the world, the day was a success: 181 countries came together for 5,200 events. Again, this was an international event asking leaders to lower the CO2 parts per million to 350 (basically equivalent to 1990 levels, already a Washington state goal) and pass policies that are grounded in the overwhelming science.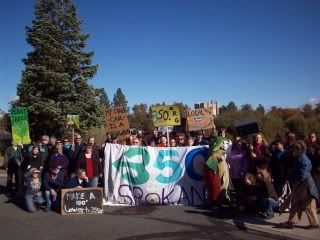 Afterward, participants marched to the Community Building, past an under construction, energy efficient Co-Op and the neighboring Platinum-LEED certified Saranac for a presentation on climate change. Good to see a few in Spokane represented reality. Follow those instincts, your commitment and idealism, unselfishness and intelligent discern. We need to make certain our leaders know 350 is an attainable goal, economically too. The difficulty is the 43 percent of Americans convinced it's a hoax, sadly turning climate change into one of the most contested issues of our time, while the planet says otherwise and will continue to do so.

 Here are some climate related stories after the jump.