Everything tagged
Latest from The Spokesman-Review
February is the month of love and the Bicycle Alliance of Washington wants to share some of that bike love with you!
It's a simple: The Bike Love Party is an informal get-together for folks who like to bike on Friday from 5:30-7:30pm in the Community Building Lobby, 35 W Main Ave. This is your opportunity to hang out with other bicyclists, talk bikes, and look forward to spring. River City Red is providing the beer and they'll raffle off some great prizes donated by local bike shops: Two Wheel Transit, Wheel Sport East, North Division Bike Shop, and Pedals2People. (Full disclosure: I sit on the board for Pedals2People as president.)

Here's some excellent news for Spokane getting statewide representation: The Bicycle Alliance of Washington has hired Barb Chamberlain as their new Executive Director. Founded in 1987, the statewide bicycle advocacy organization works to grow bicycling and to create complete and healthy streets through education, developing more inclusive communities for cycling, building a coalition of organizations, and seeking to make bicycling accessible to everyone. Sounds like a perfect fit for Chamberlain. I'm sad to see her go but what an amazing opportunity! She shares her thoughts on the Bike Style blog and hop on over to the comments section to wish her congratulations.
From the Bicycle Alliance: Chamberlain currently serves as the Director of Communications and Public Affairs for the Washington State University-Spokane campus, where she has built the communications staff from one person to a team of six. She is also a founding board member of the Empire Health Foundation, led a successful Spokane public school levy campaign, and served on the North Idaho College board of trustees.
With a passion for bicycling and active transportation, Chamberlain worked with the Bicycle Alliance and a host of other groups when she volunteered to spearhead Spokane's Bike to Work Week beginning in 2008. She was a member of the Spokane Bicycle Advisory Board and chaired the group in 2010-2011, and currently serves on the Transportation Advisory Committee for Spokane Regional Transportation Council. She launched the blog, Bike Style Spokane, as a way to encourage more women to try biking.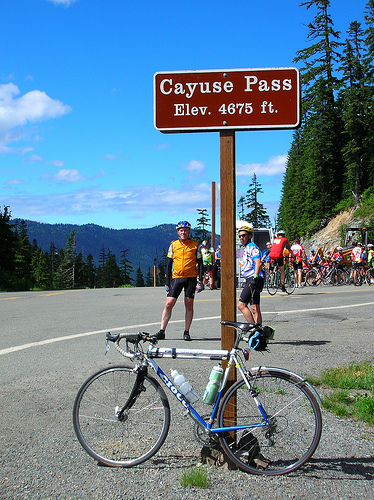 CYCLING — RAMROD, the grueling Ride Around Mount Rainier in One Day, isn't until July 26, but Saturday (March 31) is the deadline to register for the lottery drawing to get in to one of the region's premier thigh-busting bicycling events.
Sponsored by the Redmond Cycling Club, RAMROD is a challenging ultra-ride of 152 miles and 10,000 feet of climbing. The nature of the ride, with three major climbs and a route through Mount Rainier National Park, requires the club to limit the event to 800 cyclists.
Applications are accepted through March 31 for the lottery to determine participants.
Cost: $105.
Drawing is April 12.