Everything tagged
Latest from The Spokesman-Review
COEUR d'ALENE - Hundreds of Kootenai County students rely on their bicycles to get safely to and from school each day.
It's time to pull up a classic DTE video as school is back in session and I've seen a lot of students riding around town without helmets and lights. Let's revisit some safety rules. The Bicycle Alliance Of Washington is an extensive resource. But there's nothing like Stanislaw Hickenbottom and Tinkerbell McDillinfiddy. I'm talking about the poor kids in "One Got Fat," the twisted 1963 Bicycle Safety Film about a group of monkey-masked kids deciding to ride their bikes to the park for a picnic. On the way there, one by one, the kids are knocked out of the ride due to careless or unsafe riding. Except for one. The narration is by Edward Everett Horton of Rock and Bullwinkle fame.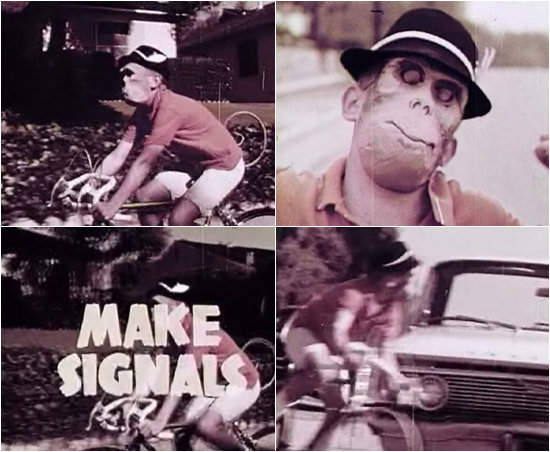 I always thought of this bike safety video as a classic but I'm not sure how many readers have had the opportunity to be this scared or confused. That's what makes "One Got Fat" so much fun. Enjoy after the jump.
After receiving a delivery of 30 children's bicycles from the Bike Hub, Micah Reed, 10, and other Broadway Elementary School students test out the bikes during Central Valley School District's Elementary Bicycle Safety Program at Broadway, Aug. 30. The school's PE teacher, Katie Ferris, secured a grant for $6,100 from SpokeFest to purchase the bikes. SR photo/Dan Pelle
I'm pretty sure it's Monday again, though my internal calendar will be off all week since I worked yesterday. Now that we've shaken off the Monday morning cobwebs through generous amounts of coffee, it's time to take a look at Saturday's Valley Voice.
The city of Spokane Valley has a new public works director, Eric Guth. He'll probably be able to handle complaints about potholes and snow plowing easily, since his last job saw him dodging rocket attacks in Afghanistan.
Reporter Lisa Leinberger checked out a bicycle safety program offered by Central Valley School District. The district got a grant from SpokeFest to buy 30 bikes and helmets and will visit every fourth and fifth grade class this year.
The Spokane Valley City Council had a lenghty discussion on a proposed one percent property tax increase in 2013 that would cost each homeowner $1.20 per year. Several council members are against it, so it looks like at some point there will be a vote on whether to approve the increase.
The Spokane Valley Fire Deparment is looking over its proposed 2013 budget, which is projected to be lower than the 2012. That's in large part because there are no construction projects planned for next year. Employees will get small raises after agreeing to a wage freeze in 2012.