Everything tagged
Latest from The Spokesman-Review
OLYMPIA – Washington State University uses many tools to combat binge drinking by students, from mandatory information programs to counseling to notifying parents, a school official told a legislative panel Friday. But the rate of binge drinking is still about the national average, roughly two out of five students.
The Legislature might give WSU and other colleges around the state one more tool to reduce on-campus drinking – special DUI courts on campus similar to courts in Spokane and some other cities that specialize in driving under the influence cases.
The Senate Law and Justice Committee, which is considering a bill to authorize college DUI courts, got some sobering facts on binge drinking from Robert King of The Century Council, a national group trying to curb alcohol abuse. . .
To read the rest of this item, or to comment, go inside the blog.
Washington State University freshman Kenneth Hummel's death last month brought the issue of alcohol abuse on college campuses back into the spotlight. The student had a blood alcohol level of 0.40 when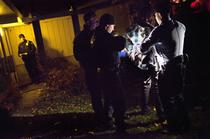 he died. But the weekend before Hummel died, three WSU students ended up in the hospital because of overdrinking, said Cassandra Nichols, the university's director of counseling services. Pullman Regional Hospital has seen four patients since August whose alcohol poisoning was so severe that they "needed life support because they drank too much, and that is rare," said Alison Weigley, community relations coordinator. "Typically we might have one, maybe two in a year"/Jody Lawrence Turner, SR. More here. (Tyler Tjomsland SR photo: Officer Ruben Harris, second from right, handcuffs a highly intoxicated man who was arrested for trespassing on private property on Nov. 10 during a patrol of College Hill in Pullman)
Question: Looking back, can you remember times in your college days when you probably drank way too much?
The Centers for Disease Control released an an analysis today of the "prevalence of binge drinking (defined as four or more drinks for women and five or more drinks for men on an occasion during the past 30 days) among U.S. adults aged 18 and older."
Some of the findings might surprise you. Some may not. According to the CDC:
Excessive alcohol use accounted for an estimated average of 80,000 deaths and 2.3 million years of potential life lost in the United States each year during and an estimated $223.5 billion in economic costs in 2006.
Binge drinking prevalence among men (23.2 percent) was twice that of women.
Binge drinking is more common among those with household incomes of $75,000 or more, but the largest number of drinks consumed per occasion is significantly higher among binge drinkers with household incomes of less than $25,000 – an average of eight to nine drinks, the report said.

Adult binge drinking is most common in the Midwest, New England, the District of Columbia, Alaska and Hawaii, the report said. However, binge drinkers consume more drinks in Arizona, Nevada, New Mexico, and Utah, the Midwest, and some states where binge drinking is less common - including Louisiana, Mississippi and South Carolina.
(AP archives photo)