Everything tagged
Latest from The Spokesman-Review
Here's a news release from Spokane Valley police spokesman Sgt. Dave Reagan titled, "Stolen "Smart Food" No Help to Thief."
A 24-year-old Spokane man was arrested Tuesday evening after he attempted to steal $329 worth of Blu Ray DVD's and an egg roll, a burrito and an item labeled "smart food."
Officer Lamont Peterson was called to the East Sprague Avenue and North Sullivan Road Fred Meyer store about 7 p.m. after a security officer stopped Mordekye A. Layman as he attempted to leave the store with the items hidden in a canvas bag.
Peterson arrested Layman for third-degree theft and returned the property to the store.
Police are looking for help identifying a man who stole more than $800 in movies from a Spokane Valley store.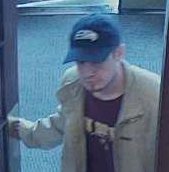 The thief, who appeared to be in his early to mid-20s, stole Blu-rav discs from Barnes and Noble, 15310 E. Indiana Ave., about noon on Feb. 16.
"The thief's tastes leaned toward television series such as The Office, Mad Men, Lost and Dexter," according to a news release by Sgt. Dave Reagan.
Surveillance photos show the man wearing jeans, a red shirt, tan jacket and dark cap .
Anyone with information on his identity is asked to call Crime Check at (509) 456-2233.