Everything tagged
Latest from The Spokesman-Review
Police are again looking for tips on the theft of Nook tablets from the Spokane Valley Barnes and Noble, this time for a break-in early March 5.
Officers responded to an alarm at the store, 15310 E. Indiana Ave., at 5:52 a.m. and found a tire iron on the ground next to the shattered window. They believe the burglary targeted the Nook kiosk because cash registers and other merchandise appeared to be untouched, according to the Spokane Valley Police Department.
Surveillance video released Tuesday shows the thief wearing possibly a heavy fleece jacket with a white North Face logo on he left front chest and on the back right shoulder.
He also wore what appears to be dark blue jeans and dark shoes with a bright red logo on the heel, as well as a tan baseball hat with a light green bill and a blue and black backpack.
Police also are looking for tips on possible suspects in the theft of Nook tablets from the same store March 4.
Anyone with information is asked to call Crime Check at (509) 456-2233.

Property crime detectives are asking for help identifying two men who may have information about electronic "Nook" readin

g tablets stolen from the Barnes and Noble bookstore in Spokane Valley last week.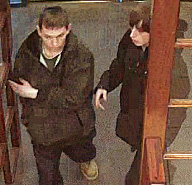 Th

e theft occurred March 4 just before 6 p.m.
The Spokane Valley Police Department today released surveillance photos of the men in hopes someone will recognize them.
Anyone with information is asked to call Crime Check at (509) 456-2233.
Item: Is this the final chapter? Future of bookstores in doubt with e-books gaining in popularity/Alecia Warren, Coeur d'Alene Press
More Info: Bookstores are feeling a squeeze these days. With the barrage of alternatives like online bookselling, downloading electronic books, and shopping at warehouse stores, independent bookstores could seem obsolete. And with Borders declaring bankruptcy this week, it begs the question: If the big guys can't make it, what is the future of the small bookstore?
Question: Will small bookstores soon be obsolete?