Everything tagged
Latest from The Spokesman-Review
A small Washington town of about 4,200 people now has the country's attention after a video, shot at a recent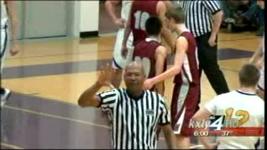 high school basketball game, went viral and showed up on Yahoo.com's homepage.The video, shot by an opposing team's parent, shows Connell payers committing what could be considered flagrant fouls. Yahoo's article said the video has turned Cole Vanderbilt into "one of the most hated players in Washington."It shows Vanderbilt smacking players in the face as he tries to get the ball away from them. At one point, he clotheslines a player, sending him flying into the air and landing on his back/Colleen O'Brien, KXLY. More here.
DFO: I once broke down in Connell, Wash., a small town north of the Tri-Cities. Wouldn't want to be from there.
Question: Who's to blame for the deplorable behavior of the Connell High basketball team?
Item: Student sues coaches, Lakeland: Senior claims he didn't have fair shot at making hoops team/Brian Walker, Coeur d'Alene Press
More Info: A Lakeland High senior has filed a tort claim against the Lakeland School District, claiming two boys' basketball coaches caused him "emotional distress" and didn't give him a fair chance at making the team. Wesley Bremer, 18, filed the claim seeking $1 million against coaches Trent Derrick and Greg Ward and alleging two separate incidents. Derrick is also the school's athletic director.
Question: What do you make of this lawsuit?
Mike Colbrese, the executive director of the Washington Interscholastic Activities Association, has taken some heat for the recent changes in the state basketball tournament format.
On Monday, Colbrese and readers will get a chance to talk about the recent changes in an online chat at spokesman.com.
If you have questions about the state tournaments or anything regarding the WIAA, be sure to check in at spokesman.com/sportschat at 1 p.m. on Monday. Use the widget to the right to sign up for a reminder. You can submit a question in advance by sending it to sports@spokesman.com. Read past the jump for more information on the tournament changes.