Everything tagged
Latest from The Spokesman-Review
HIKING – Spectacular runoff pouring down the Spokane River will highlight the third annual Spokane Bridge Walk organized June 4 by Spokane Parks and Recreation.
Sign up for the event, get a map and walk at your own pace with friends 9:30 a.m. -10:30 a.m. to cover the 4.5-mile loop that crosses 17 bridges in the heart of Spokane. The walk starts at Monroe Street Bridge and ends at Rotary Riverfront Fountain.
A check-in table will be staffed at Veteran's Court on the north bank of the Spokane River between Post and Monroe streets. Pay a fee ($19 adults, $12 youths 5-16) to help support city parks recreation programs and get a map and bridges pin.

Register online.

Read on for more event details:
Construction work on Interstate 90 through Post Falls begins today and could cause traffic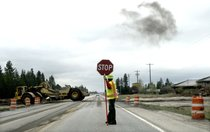 delays until work is completed in mid-June. Workers will be repairing freeway bridges over the Spokane River, Pleasant View Road and Spokane Street. Traffic will be reduced to one lane in each direction today through May 3 from 8 p.m. to 5 a.m. The reduced lanes will involve the entire 4.4-mile stretch between the river and Spokane Street. Starting on May 4, the lane closures will run all day and continue for about a month, said Barbara Babic, public involvement coordinator for the Idaho Transportation Department/Mike Prager, SR Getting There. More here.
Question: How do you pass the time while stuck in traffic as the result of road work?