Everything tagged
Latest from The Spokesman-Review
This blog post has been updated with April sales numbers from Spokane County marijuana producers and processors.
In a month that saw state legislators vote to blend medical and recreational marijuana laws, Spokane County retailers reported sales of more than $3 million, the largest monthly total since sales began last summer.
The 4/20 effect was noticeable for state recreational marijuana retailers, with the weekend of April 20th seeing the highest sales to date, according to statistics from the Washington Liquor Control Board (which will be renamed the Washington Liquor and Cannabis Board under new state laws governing recreational and medical pot sales). State shops set a record on Friday, April 17, selling $1.76 million worth of legal marijuana.
But the counterculture holiday wasn't the game-changing day for recreational sales some made it out to be - this past Friday, shops sold $1.83 million worth of weed. If anything, the statistics show weekends are more important to cannabis users than pre-ordained celebrations.
In Spokane County, retailer Greenlight continued its pace of outselling all other shops authorized under Initiative-502, reaching a half million dollars in sales for the first time since opening in September.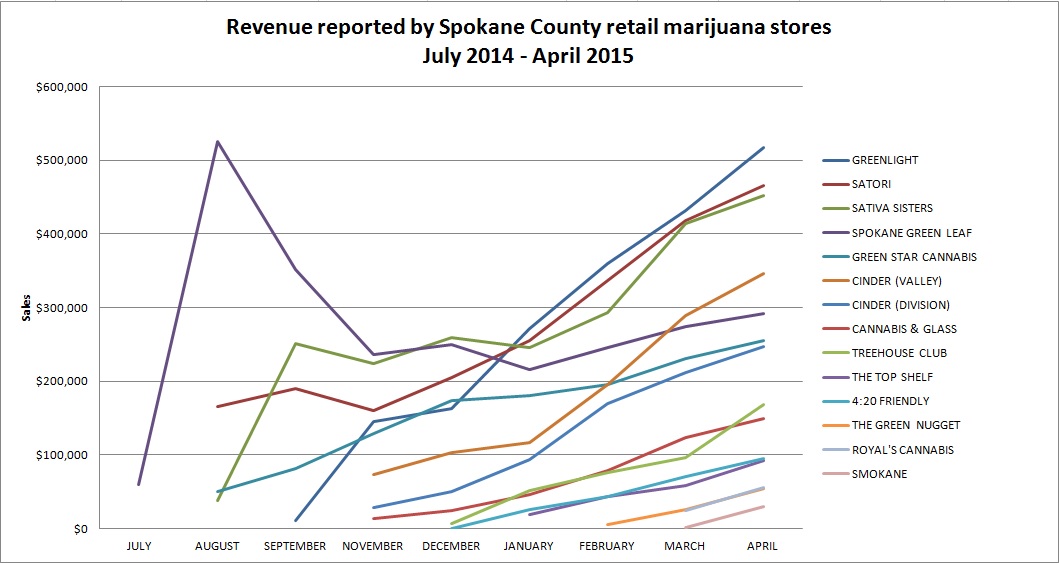 Greenlight's sales total of $517,032 fell just shy of Spokane Green Leaf's record haul of $524,579 in August. Only three stores were selling legal marijuana when Green Leaf posted that total; Greenlight is competing against 13 other stores. If Greenlight's trend continues, it will break that record in May.
No new stores reported sales in April, but overall revenues still saw an increase of about 21 percent over March.
Statewide, producers have been posting sales numbers much lower than retailers after concerns surfaced in January about a glut of product in the market. In Spokane County, growers struggled to post $31,762 in sales last month. Producers posted their highest sales total in November, with roughly $1.9 million sold statewide.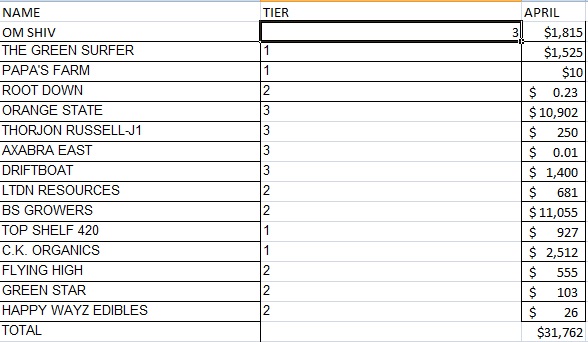 Processing continues to be the most popular part of the marijuana industry in Spokane County, based on the number of businesses reporting sales figures to the Washington Liquor Control Board. Thirty-nine processing businesses in Spokane County reported total sales of $2.2 million in April, with Grow Op Farms in Spokane Valley accounting for more than a quarter of those numbers at almost $950,000 in sales.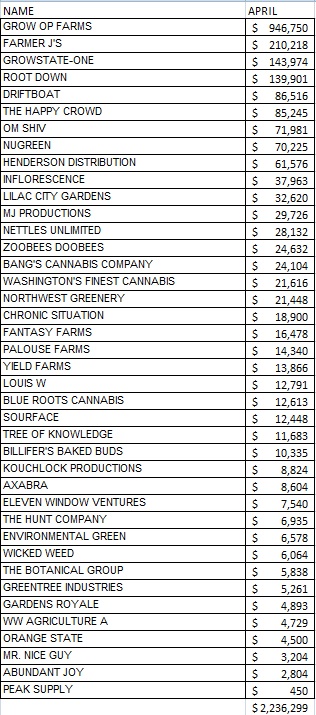 Recreational marijuana sales have soared in August, thanks in part to a big Friday that came in the midst of several large-scale marijuana events in Western Washington.
According to sales figures tracked by the Washington State Liquor Control Board, more than $5.1 million worth of legal pot has been sold in the state since Aug. 1. About a sixth of that total was sold Friday, Aug. 15, during the "Canna Con" exposition in Tacoma and the annual Hempfest celebration in Seattle. The state reported sales of about $860,000 worth of product on that day, doubling the closest competitor for busiest sales day nationwide.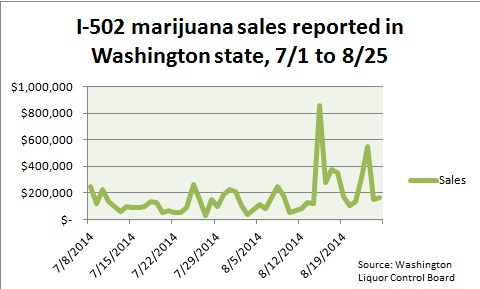 The Liquor Control Board says more than $8.3 million worth of marijuana has been sold legally since July 8, with excise taxes reaching more than $2 million.
That $5.1 million figure is almost $2 million more than the amount of legal weed sold in July, over roughly the same number of days.
While the expo is likely one of the causes of the big sales day earlier this month, Liquor Control Board spokesman Brian Smith said many factors are contributing to a growth in sales.
"As of last week, we'd licensed 46 retailers, with something in the upper 30s reporting sales," Smith said. "More and more product is coming into the market."
Some businesses are reporting their sales at the end of the week, leading to a normal bump on Fridays and Saturdays, Smith said. Another encouraging sign is the rate at which the department is receiving owed taxes, he said. The Liquor Control Board said 97-percent of the taxes owed had been paid to the state, a rate Smith called impressive.
In addition, about 75 percent of taxes were paid with a check rather than cash, indicating retailers were using banks to deposit their money, Smith said. He did not say whether those checks were issued in the name of a business or an individual.
OLYMPIA – Washington state could collect about $200 million a year by legalizing marijuana, then regulating, taxing and selling it in state liquor stores, a legislative panel was told Tuesday.

But the state could also wind up with no money and any liquor store employee who rang up a marijuana sale facing five years in federal prison, the chairman of the House Public Safety Committee warned.
The committee spent about two hours Tuesday morning considering House Bill 1550, a version of the perennial push for the state to legalize marijuana, or cannabis as the sponsors prefer to call the plant. Under the plan, any adult could smoke marijuana, grow their own in a plot no bigger than 50 square feet, and the state would regulate and sell the drug at liquor stores. Farmers could also grow hemp, which comes from the plant.



If passed, this would put the state in the forefront efforts to legalize marijuana, which remains an illegal and controlled substance under federal law. That would be a good thing as other states follow suit, said Rep. Mary Lou Dickerson, D-Seattle, the prime sponsor.

"Why shouldn't Washington reap the benefits of legalization," asked Dickerson, who estimated the state could collect $400 million per biennium from taxes and sales. She likened home-grown marijuana to home-brewing of beer and wine making.