Everything tagged
Latest from The Spokesman-Review
PADDLING — A video of a man's canoe ballet is a peaceful end of the week and a reminder of what a little practice with a paddle can accomplish.
The video is from the 2007 Mid-West Freestyle Canoe competition.
American Freestyle canoeing is the art of paddling a canoe on flat water with perfect control of its movements. The canoe is usually leaned over to the side to help the boat turn sharply and efficiently and paddle strokes are taken on either side of the canoe depending on the individual move. Balance, paddle placement and turn initiation are a few keys to this control. Since the movements seem dance-like, some practice this art timed to music, which is the ultimate in control.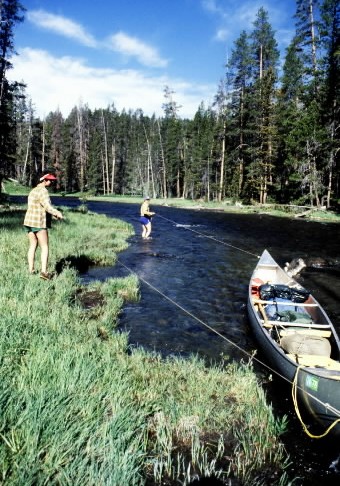 PUBLIC LANDS — I've made a few classic canoe and kayak trips in Yellowstone National Park over the years, including the Lewis River to Shoshone Lake (see photo) and on Yellowstone Lake.
But even though I'm a long-time paddler and co-author of the guidebook, Paddling Washington, I can still clearly see a reason to restrict paddling in national parks, where the priority is on preserving natural ecosystems.
It's shocking to see that a Wyoming Congreswoman has introduced a bill that would REQUIRE Yellowstone and Grand Teton national park officials to allow more paddling in the parks.
Here's the scoop from High Country News and a person who knows and write's eloquently on the potential ramifications of the legislation. Check it out.
Called the "River Paddling Protection Act," the bill has already passed the House of Representatives. It gives the National Park Service three years to change its regulations barring non-motorized boating on rivers and streams. If the agency fails to act in that time, then boating in the two parks will be considered unregulated.
Michael W. Blankartz, 28, of Spirit Lake, has been identified as the victim of the Spokane River drowning this morning near Corbin Park in Post Falls. Blankartz and Danny J. Richison, 29, of Post Falls had put a canoe in the water at the East end of Corbin Park in an attempt to float to the old Pleasant View Bridge area. Shortly after pushing out from shore, the canoe flipped, tossing both men from the canoe. Richison reported that he was able to hang on to the canoe for a short period of time and get back to shore. He last saw his friend floating in the river just below the first set of rapids. The victim's body was recovered in 4 feet of water, about 1 mile downstream from Corbin Park, by KCSD Dive Team/Kootenai County Sheriff's Department news release.