Everything tagged
Latest from The Spokesman-Review
(Photo by Cheryl-Anne Millsap)

We sat quietly in the car as I drove across town, the road-grimed headlights piercing the twilight ahead of us. I didn't even think to turn on the radio. It was only 4 o'clock but it felt much later. I had a sense of being displaced; even the familiar route looked strange and suddenly unfamiliar in the indigo light of the late afternoon. For a moment I felt as though I'd lost my way, before the eerie feeling faded and I was back on track.

The effect of the early darkness and the warmth of the car after the sharp and biting wind outside, silenced us and we kept our thoughts to ourselves as I steered over slushy streets. The sky, pregnant and heavy with the wet snow that would fall later in the evening, hung over us as dull and gray as lead.

December, especially in this northwestern corner of the country, is the darkest time of the year. The sun can hide for days, giving at best only a weak and watery light, rising late and setting early. Little surprise then that decorations go up early and stay up long after the holiday. We are starved for the light.

Still thinking about this, I am struck by the feeling of comfort that washes over me as I turn into my driveway. Light shines warmly through the front windows and I know that once I am inside I will be surrounded by the familiar smells and sounds of home: Dinner in the oven. Music. The sound of boots being kicked off and footsteps on the stairs. The bother of the cat and dogs under my feet, hoping for treats in the shopping bags I am carrying.

So many aspects of the holiday season are centered around images of home. Candles in the windows. Lights on the tree. The Welcome mat. A wreath on the door. A fire in the fireplace. A glass of cheer once you're in the door. A shared meal. An embrace. Winter isolates us, changes even the most familiar landscape, blanketing us with snow and silence and darkness. No wonder we sing and celebrate and gather. No wonder we act on an ancient impulse to dress up and dance and make noise to keep the wolves of winter at bay.

We may have evolved, but somewhere deep inside each of us beats the heart of a cave-dweller who wants nothing more than safe shelter and the comforting light of the fire.

We are still lost in the dark until we're home.


Cheryl-Anne Millsap is a freelance writer based in Spokane. Her essays can be heard on Spokane Public Radio and on public radio stations across the country. She is the author of "Home Planet: A Life in Four Seasons" and can be reached at catmillsap@gmail.com
Isaiah Thomas also appeared miffed by the WSU students' storming of the floor, though he didn't seem nearly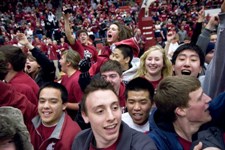 as bothered as Gant. "I don't know," Thomas said. "I mean, it's January. We haven't done it. I guess it was a big win for them. Like I said, hats off to them. They played a great game. I told my guys in the locker room, just remember that. That's something to remember, because you don't win championships in February. But they thought it was a big win, and it was for them. And it's a rival game. You can't blame them, but I think we would have did it a little differently"/Christian Caple, Huskies Blog. More here. (AP file photo/Dean Hare: WSU fans storm court)
Question: What do you make of UW basketball players being miffed that fans stormed the court after Washington State upset the Huskies last week?
Good morning, Netizens…
Let's open this morning's salvo of thoughts introspective with a picture of revelers wearing masks during a parade through the streets of Basel, Switzerland, Monday.
I cannot and should never speak for everyone, but I feel relatively certain that most black families in the Deep South (as well as other parts of the country) probably wince, or at least feel a momentary hesitation upon looking at this picture. Although the cutline of this AP picture tells us little about the significance of men/women dressing in white sheets marching down the street playing music in far-off Basel, Switzerland, with just a momentary bit of investigation, I have already found several reasons why dressing in white robes with pointy hoods, marching in a parade in Basel, Switzerland and America's horrid racial strife all seem to have common factors.
I truly believed that the KKK, and its various factions thereto, had expired and faded into insignificance, but is this picture somehow inexorably tied to America? If not, what is the significance of men/women wearing the dreaded white uniforms with pointed heads? History, at least the brief synopsis I read this morning, suggests that the Klan may have seen its origins in Switzerland, long before now.
Does this picture trouble you in any way?
Dave