Everything tagged
Latest from The Spokesman-Review
Coeur d'Alene High quarterback Chad Chalich passes the ball against Centennial during an Idaho state high school state championship football game on Thursday at the Kibbie Dome on UI's campus in Moscow. After leading 14-7 at half, the Viks defense stopped Centennial cold in the second half en route to a 28-7 Milk Bowl victory. Greg Lee's story here. (SR photo: Tyler Tjomsland)
The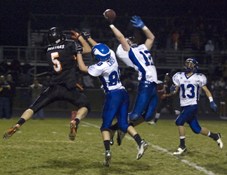 top-ranked Coeur d'Alene Vikings were understandably excited after upending the second-ranked Capital Eagles last week in the semifinals of the state 5A high school football playoffs, but Vikings coach Shawn Amos knew one thing was missing. "A lot of people were talking like the semifinal was the final, but we didn't get a trophy after the game," Amos said. A trophy will indeed be awarded tonight, when Coeur d'Alene (10-1) faces fourth-ranked Centennial (9-2) at 7 p.m. at the Kibbie Dome in Moscow in the state championship game/Mark Nelke, Coeur d'Alene Press. More here. (SR file photo: CdA's Joe Roletto knocks down a long pass in a game earlier this year against Post Falls)
Also: Greg Lee/SR SportsLink will be tweeting the game from the Kibbie Dome tonight. You can follow by clicking on the SR sports Twitter in righthand rail
Question: Who will win tonight's game? Why?
A poster announcing the centennial celebration of Father's Day created by Spokane tourism officials portrays Sonora Smart Dodd, founder of Father's Day, and a drawing of her father, William Smart, is seen Thursday in Spokane, Wash. This June 20 marks the 100th anniversary of Father's Day. (AP Photo/Nicholas K. Geranios).
Question: What role did your father play in making you the person you are today?