Everything tagged
Latest from The Spokesman-Review
Former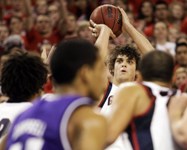 Gonzaga guard Matt Bouldin didn't hear his name called during the NBA draft on Thursday, but there was plenty of activity behind the scenes. Late in the second round, Chicago Bulls executive vice president of basketball operations John Paxson phoned Stu Lash, Bouldin's agent. "They were very excited Matt was available to them and for John to call at the tail end of the draft is a strong indication of how they value Matt," Lash said. Lash said Bouldin has agreed to a free-agent contract and will join Chicago's summer league team. The Bulls' first summer league game is July 13 in Las Vegas/Jim Meehan, SR. More here. (AP Photo)
Question: Do you think former Zag Matt Bouldin will make the NBA as an undrafted free agent?
It seems Chicago Tribune sportswriter Rick Morrissey pledged to eat his column if his dire predections about Chicago Bulls player Joakim Noah proved wrong.
Well, Noah has proved to be "useful" to the Chicago team and this video shows Morrissey eating his column— slathered with salsa:
http://notqualifiedtocomment.com/2009/11/rick-morrissey-actually-eats-his-column-video.html
This columnist stuff is dangerous work. Would you like to see a journalist eat his/her words?