Everything tagged
Latest from The Spokesman-Review
Sure, Butch Otter is bringing in big GOP political star Chris Christie for a fundraiser tonight at the Coeur d'Alene Resort, but former House Speaker Lawerence Denney has stars of his own headed to Idaho for a fundraiser for his campaign for Secretary of State: The main characters from the popular "Duck Dynasty" reality show on A&E, who'll talk family values in a stadium show in March and visit with Denney supporters at a VIP reception. "They're good family-values people and we're happy to have 'em coming," Denney said.
Pulling in out-of-state star power to boost a campaign isn't uncommon, notes Boise State University emeritus professor Jim Weatherby, especially for a top office like governor. He pointed to presidential candidate Mike Huckabee's campaigning with movie star Chuck Norris, and declaring that he was "Chuck Norris approved." Christie "certainly has star power," Weatherby said. "He's an excellent speaker and I suspect will draw a big crowd."
As for Denney's race, Weatherby said, "It's a little hard sometimes to get a lot of excitement for some of the elected positions like Secretary of State."
Denney said he put in an offer to get the famously bearded TV stars to come out, and was surprised when they accepted. He'll pay them a flat fee, and they'll present "Happy, Happy, Happy: An Evening with A&E's Duck Dynasty" at the Idaho Center in Nampa on March 29, 2014. You can read my full story here at spokesman.com.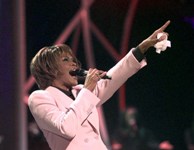 New Jersey Gov. Chris Christie says he will order flags flown at half-staff at state government buildings Saturday in memory of Whitney Houston. The governor says Houston was a "cultural icon" who belongs in the same category in New Jersey music history as Frank Sinatra, Count Basie and Bruce Springsteen. He says her accomplishments were "a great source of pride for the people of the state." Her funeral will be held the same day in her birthplace of Newark/Associated Press. (1999 AP file photo of Whitney Houston)
Question: Should New Jersey lower its flags to half-staff in memory of Whitney Houston?
New Jersey Gov. Chris Christie
So Christa Hazel provides this link to a decidedly unflattering photo of Gov. Christie. The LA Times opinion piece poses the question "Chris Christie: Does he have the look of a president?"
To be president, do you have to look presidential?
And if so, does that mean Chris Christie should forget about a run for the Oval Office?
New Jersey's governor, considered a rising star in the Republican Party, was hospitalized Thursday after having trouble breathing (he suffers from asthma), The Times reported. The story takes note of Christie's weight issues:The governor has acknowledged leading an unhealthy lifestyle. In a recent interview with CNN's Piers Morgan, Christie said he feels "guilty" about his weight.
"I'm really struggling, been struggling for a long time with it, and I know that it would be better for my kids if I got it more under control. And so I do feel a sense of guilt at times about that," he said.
What do you think? Would Americans elect an overweight man or woman as president?
PS: Mike Kennedy, Christa specifically hopes that you will weigh in on the subject.