Everything tagged
Latest from The Spokesman-Review
Religious workers can't sue for job discrimination, the Supreme Court ruled Wednesday, saying for the first time that churches — not courts — are the best judges of whether clergy and other religious employees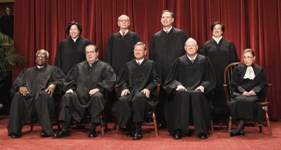 should be fired or hired. But the high court tempered its decision bolstering the constitutional separation of church and state by refusing to give a detailed description of what constitutes a religious employee, which left an untold number of workers at churches, synagogues and other religious organizations still in limbo over whether government antidiscrimination laws protect them in job bias disputes. It was, nevertheless, the first time the high court has acknowledged the existence of a so-called "ministerial exception" to anti-discrimination laws — a doctrine developed in lower court rulings/Associated Press. More here. (AP file photo)
Question: Do you agree/disagree with ruling?
Here's a news release from Sgt. Dave Reagan:
A thief broke into a Spokane Valley church sometime between Wednesday night and 5 p.m. Saturday and stole several thousand dollars worth of electronic equipment.

The pastor at Valley Landmark Mission, 9021 E. Boone, told Officer Mark Benner that the congregation held a service Wednesday night and that all of the stolen property was stored in the electronic storage room that night.

When a cleaning crew arrived about 5 p.m. Saturday, they discovered the room pillaged and several items missing. The stolen property included a Canon HD camcorder, an Acer laptop computer and two Phillips portable DVD players.

Benner found that the point of entry appeared to be a narrow window. Anyone with information regarding the break-in is encouraged to call Crime Check at (509) 456-2233.
OLYMPIA — Churches would be able to hold occasional farmer's markets on their property without losing their tax exempt status under a bill passed overwhelmingly Wednesday by the Senate.
The Senate gave 46-1 approval to a bill that allows churches and other public meeting places owned by nonprofit organizations to hold farmers markets for as many as 53 days a year, as long as the money the organization gets goes for charitable purposes.
Last summer the state Department of Revenue informed two Spokane churches and one in Millwood they'd have to pay taxes on their property or stop holding farmer's markets on it. Tax-exempt organizations aren't allowed to run commercial businesses on their property under state law, the department said.
House Bill 2402 sets up standards that churches and other nonprofits must follow in setting up the markets.  It returns to the House, where it passed 97-0 last month, because of amendments approved in the Senate.