Everything tagged
Latest from The Spokesman-Review
Stephen Colbert makes fun of the conservative furor over "America the Beautiful" being sung in multiple languages in Coca Cola's Super Bowl ad.
Don't know about anyone else, but I'm waiting for some furor — conservative, liberal, bipartisan, academic or whatever — over Fox's selective editing of the Declaration of Independence, which was only partially read before the start of the game. Who are they trying to appease?
To see what the "reading" left out, go inside the blog.
Coca-Cola Co. is extending its lineup with smaller package sizes at lower price points aimed at consumers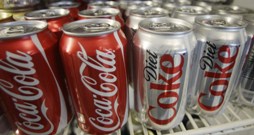 watching their budgets and their waistlines. This week, the beverage giant is expected to announce the launch of a 12.5-fl.oz. bottle that retails for 89¢ (round off to a 90¢ vend price). It will join Coke's 16-fl.oz., 99¢ bottle that rolled out nationwide in convenience stores last year as an alternative to the pricier 20-fl.oz. bottle, according to The Wall Street Journal. Coca-Cola is also hoping to spur sales by reducing the suggested retail price on its recently introduced eight-pack of 7.5-fl.oz. 100-calorie Coke "mini'' cans in supermarkets by about 20% to $2.99/Vending Times. More here. (AP file photo)
Question: Are you interested in this new product? And/or: What is your soft drink of choice?
This month marks the 50th anniversary of the death of Ty Cobb, the irascible Detroit Tigers right-fielder who
was the first player voted into baseball's Hall of Fame. Less well known is that Cobb, a Georgian who eventually retired to California, was a Twin Falls businessman during the 1940s and '50s. In his third season in the major leagues — 1907 — Cobb began buying Coca-Cola stock and doing magazine and newspaper endorsements for the Atlanta-based beverage maker. By the time he died, he owned 20,000 shares of stock and bottling plants in Twin Falls; Bend, Ore., and Santa Maria, Calif. Cobb invested well elsewhere, but his relationship with Coke alone made him a rich man/Steve Crump, Twin Falls Times-News. More here. (AP file photo: Ty Cobb used to make his cleats razor sharp so as to better steal a base or break up a double play.)