Everything tagged
Latest from The Spokesman-Review
CRITTER WATCH — Here's my favorite birding story of the day, courtesy of the Associated Press in Montana:
Everyone has heard of homing pigeons, but Montana fifth-grader Tara Atkins apparently has a "schooling pigeon."

The pet bird named Foresta had disappeared Tuesday from Tara's home in the Elkhorn Mountains near Montana City, but it was back in her arms Wednesday after it showed up at her school about 5 air miles away in Helena.

"This pigeon has never been to town before," Atkins' mother, Krys Holmes, said. "We got her as a baby, and she just hangs out at home."

The bird caused a ruckus when it arrived at Central-Linc Elementary, first sitting on teacher Rob Freistadt's head, the Independent Record reported.

Staff members and a police officer tried for an hour to corral the bird that Principal Vanessa Nasset said was just "sky-bombing everyone."

Nasset asked Tara for help catching the bird after a parent remembered she had a pet pigeon.

Tara recognized Foresta by her distinct coloration and the blue band around her leg.

But as Tara tried to catch her pigeon, the school bell rang and students poured outside, delaying the capture again.

Fellow fifth-grader Owen Cleary finally caught the bird by throwing a blanket over it while it sat on his head.

Holmes said she doesn't know how the bird ended up at her daughter's school.
WILDLIFE WATCHING — "Only in Alaska," says Levi Perry in posting a YouTube video of a cow moose giving birth to twins — in the backyard of his girlfriend's home on the east-side of Anchorage.
The video captured Sunday by Victoria Hickey and Sarah Lochner recaps the birth of one calf and the loving attention of the mother to clean up the youngster. Minutes later you realize that while she was tending to the first-born, she was nonchalantly giving birth to the second calf.
It only takes minutes for her to get them looking clean. The little ones waste no time testing their legs and moving in for dinner.
Tiz the season of renewal! Wildlife watching at its best.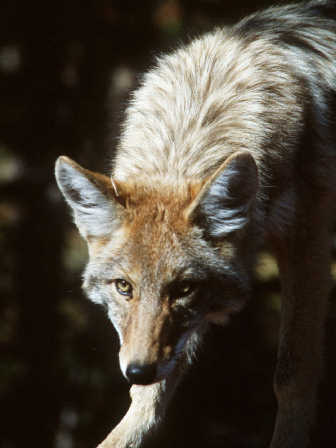 WILD LIFE – Blush if you must, but mating season is an exciting time to get out the binoculars.
Many eagles, owls, hawks and other large birds such as ravens and magpies are making whoopee in the skies and treetops of the Inland Northwest.
Golden eagles have been seen performing their swooping mating flights over the hills and cliffs above the cliffy shores of Lake Roosevelt.
Coyotes also have reason to howl as they pair up.
But while there are some similarities between human and critter behavior around Valentine's Day, here's a point at which men may want to stray:
When looking for mates, male meadow voles – grassland rodents that look like mice with short tails – listen for the pitter-patter of little feet.

Female voles are most receptive when males catch them hours after giving birth. New mammas will mate after about 5 minutes of courtship, compared with up to 90 minutes for other females.