Everything tagged
Latest from The Spokesman-Review
After what Exergy Tour communications director Heather Hill called "a little bit of an unexpected glitch here on the first day" - the theft and then recovery, apparently unscathed, of $120,000 worth of racing bikes and equipment from one of the teams - the event is on. "We are humbled to be hosting over 100 athletes representing 18 of their home countries, many of whom will represent their home nations in the Olympic games this summer," Hill declared. She said the women's bike race is aimed at "raising the bar" for women's sports. "Our $100,000 prize purse, the largest for a ladies' five-stage race in the history of the sport, is one example of raising the bar."

Steve Johnson, president and CEO of USA Cycling, the organization responsible for identifying, training and selecting cyclists to represent the United States in international competition, called the Boise women's cycling race "an exceptional event." Idaho hosted the Women's Challenge from 1984 to 2002; this year's event marks the return of high-level women's bicycle racing to the state. "This is probably one of the biggest and most exciting women's bike racing events in the world this year," Johnson said. "You have some of the greatest … cyclists in the world here. You don't have to go to London. It's a great opportunity to see the top level of women's professional bike racing right here in Idaho."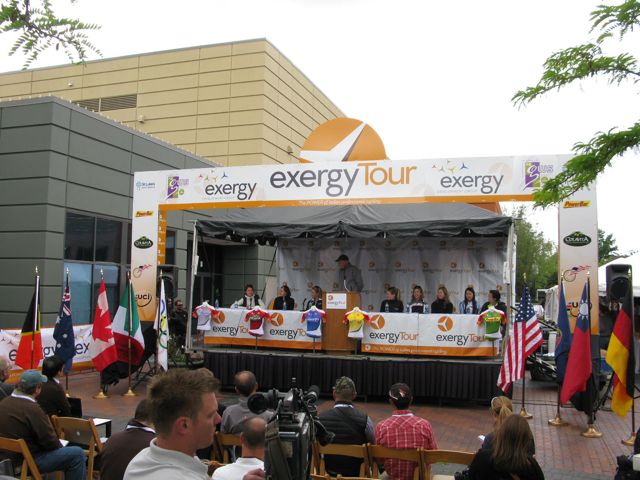 The race starts tomorrow with the Prologue, an evening time trial starting from and finishing at Julia Davis Park in downtown Boise, running from there to the Boise Depot and back, and starting at 6:30 p.m. That'll be followed by a road race starting from the Nampa Rec Center on Friday at 11 a.m.; an individual time trial in Kuna on Saturday; a 59.7-mile road race from Garden Valley to Idaho City on Sunday; and a final 46.7-mile road race Monday at 11 a.m. starting and finishing at Hyde Park in Boise, and looping up and through the Boise foothills. Spectators are welcome at all the events; there are details online at exergytour.com. The public also is invited tonight to festivities in the Grove in downtown Boise, starting with live music at 5 p.m., a "Walk to London" event led by Olympians and Paralympians, and the team presentation at 7 p.m.

Among those racing are Boise Olympic cycling medalist Kristin Armstrong and U.S. rivals Amber Neben and Evelyn Stevens, all three of whom are competing for two spots on the U.S. Time Trial team at this summer's Olympics in London. AP reporter John Miller has a full report here on the competition. Stevens, 29, is nearly a decade younger than her two rivals. "I found the sport of cycling a little bit later in life," she said today. At the age of "25 or 26," she said, while working as an investment banker at Lehman Brothers on Wall Street, she started off riding a bike in Central Park. At last year's U.S. championships, Stevens won, with Neben second and Armstrong third. But Armstrong has beat Stevens in time trials three times this year; she holds the 2008 Olympic gold medal in the time trial, and was world champion in 2006 and 2009. Neben was world time trial champion in 2008.

Also racing are six-time German champion Daniela Glass; current road world champion Giorgia Bronzini of Italy; 2011 Swiss national road champion Pascale Schnider; British 2008 Olympic gold medalist in the road race Nicole Cooke; Australian national road race champion Alexis Rhodes; Swedish national time trial champion Emilia Fahlin; current German road-race champion Ina-Yoko Teutenberg; three-time Australian national time trial champion Shara Gillow; and many more.