Everything tagged
Latest from The Spokesman-Review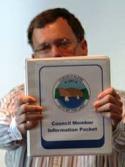 At the North Idaho Pachyderm Club last Friday morning, Coeur d'Alene City Councilman Dan Gookin complained that the "Council Member Information Packet" (which he is holding in the inset) is inadequate. Also, according to a Berry Picker who recorded Gookin's talk to the Pachyderms, Gookin said he's not happy with the agreement he was asked to sign as a member of the City Council. Gookin said he refused to sign. Curious, I checked to see who onerous were the council's 24 "standards and norms."
1. I will maintain confidentiality on personnel and other matters that are discussed in executive session.
2. I will show respect to Department Heads.
3. We acknowledge the Department Heads are a team and we respect open communication between them.
4. If I have an issue with a Department Head, I will bring it to them first and then to the City Administrator.
5.The citizens are our customers and their problem is our opportunity.
Question: Would you want your City Council members to abide by the guidelines of the "Coeur d'Alene City Council Standards and Norms"?