Everything tagged
Latest from The Spokesman-Review
A number of Detroit Pistons were rumored to be leaving the team around the trade deadline, but not like this.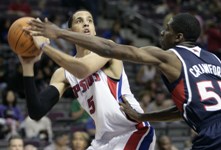 Tracy McGrady, Tayshaun Prince, Richard Hamilton and Chris Wilcox missed the team's shootaround Friday morning before that night's game against the Sixers in Philadelphia, and team sources told multiple media outlets that the players were staging a protest. Sources told the Detroit Free Press and Detroit News that the shootaround boycott was directed at second-year coach John Kuester, who has clashed with players in the past. Team spokesman Cletus Lewis said that McGrady had a headache, Prince an upset stomach and Hamilton and Wilcox missed the bus from the team hotel. Rodney Stuckey and Austin Daye also missed the bus, but they arrived toward the end of a media session, Lewis said/ESPN NBA. More here. (AP file photo of Austin Daye)
Question: Are we entering a new era of walkouts and demonstrations (a la 1960s) as a result of great divide in this country? And/or: Have you ever been involved in a sit-in, die-in, walkout, or any other protest?
Portland Trail Blazers' LaMarcus Aldridge(12) dives for a loose ball against Detroit Pistons' Ben Wallace (6) and Austin Daye (the former Gonzaga Bulldog) during the second half of an NBA basketball game in Portland Tuesday. Aldridge had a team high 19 points as the Trail Blazers beat the Pistons 100-78. Daye, the former Gonzaga Bulldog, is averaging 8.6 points per game in 21.4 minutes per game this season. Player profile here. He is teammates with former Eastern Washington star Rodney Stuckey. Stuckey profile here. (AP Photo/Greg Wahl-Stephens)
I'd wager that not many people around the country followed the NBA's preseason.  If you have,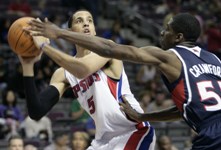 however, you would have known that one of the most impressive players in the entire league was former Zag, Austin Daye.  Daye has been sensational in his second year with the Detroit Pistons, doing a little bit of everything and showing great improvement from his rookie season.  He averaged 15 points and five boards a game for Detroit and has impressed the Pistons so much, that he will open the season as their starting power forward/Zach Bell, SB Nation. More here.
Cutline: Detroit Pistons' Austin Daye (5) looks for a shot against Atlanta Hawks' Jordan Crawford in the second half of an NBA basketball game last Monday in Auburn Hills, Mich. Daye scored 14 points in the Pistons 94-85 win. (AP Photo/Duane Burleson)

Question: With Rodney Stuckey, formerly of Eastern Washington at guard, and now Daye at forward, is it high time for Inland Northwesterners to become Detroit Piston fans?