Everything tagged
Latest from The Spokesman-Review
Here's hoping perfection repeats itself. New York Yankee pitching icon Don Larsen (shown in SR file photo), the Hayden resident best remembered for tossing a perfect game in the 1956 World Series, agreed to be the honorary chair for the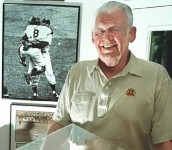 fundraising drive for a new baseball stadium in Coeur d'Alene. "We are extremely pleased that Don has agreed to be the honorary chair for the fundraising campaign," said campaign chair and baseball supporter Ron Ouren in a prepared statement announcing the position. "He is truly a legend and has been an inspiration to young men and women for many years." The stadium, pitched to go near Cherry Hill Park on 15th Street, would be a multi-sports complex, but would primarily host baseball games, the sport Larsen played professionally for 15 years/Coeur d'Alene Press. More here.
Question: Will a $2.5 million baseball park, built with private donations, meet the standard of being equal or better to the American Legion Baseball field on McEuen Field?
When people meet Don Larsen, there's usually one thing they want to talk about. The perfect game. That's fine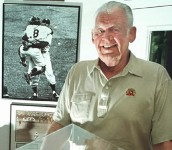 by Mr. Larsen. "I think about it every day," he said Saturday. "Nobody has to remind me." The Hayden Lake man was at Tom Addis Auto Center from 10 a.m. to 1 p.m. signing pictures, baseballs and other memorabilia to raise money for Teammates for Kids. The nonprofit was started in 1999 by co-founder country superstar Garth Brooks and Bo Mitchell, son of Dale Mitchell, who was the last batter to face Larsen in Game 5 of the World Series at Yankee Stadium on Oct. 8, 1956/Tom Hasslinger, Coeur d'Alene Press. More here. (SR file photo: Don Larsen with the ball, glove, shoes and cap that he wore on the day in 1956 when he threw a perfect game for the New York Yankees in the World Series that year)
Question: What's your all-time favorite Major League Baseball moment?
Philadelphia Phillies starting pitcher  Roy  Halladay  delivers to a Cincinnati Reds batter during the first inning of Game 1 of the National League Division baseball series Wednesday in Philadelphia. Story here. (AP Photo/Rob Carr)
Factoid: Halladay becomes only the second pitcher in postseason play to throw a no-hitter. The first? Don Larsen in his 1956 2-0 victory over the Brooklyn Dodgers. Larsen is now living in Hayden.

Question: Which teams do you want to see in the World Series?