Everything tagged
Latest from The Spokesman-Review
Good morning, Netizens…
When has our national government ever led the way when it comes to social progress? In retrospect, it seems not. Our government damned near decimated our country during the Civil War in order to end slavery. School integration took federal marshalls to finally get the job done. Now it seems as if perhaps we might see the end of "Don't ask, don't tell" in the military.
Of course the inevitable resistance from the conservative and largely Republican coalition of pro-Christians are still strenuously resisting the passage of the bill necessary to make "Don't ask, don't tell" a reality. Perhaps they have been paying attention to the numbers of veterans returning from the wars overseas suffering from all kinds of emotional damage, for which the Veterans Administration do as little as possible.
We send the best of our youth, both male and female, off to war to kill people, but until now we have largely demanded that gay men and women stay out of the military. We have tried repeatedly to prevent them from marrying, although some states have already made that legal. They pay taxes and are regulated like everyone else.
Don't you think it is about time our nation made them citizens, with all the rights inherent in that?
Dave
Senate Republicans have blocked legislation that would have repealed the military's policy of "don't ask, don't tell" and allowed gay troops to serve openly. Democrats failed today to cinch a procedural deal with Republicans in the waning days of the lame-duck session. The 57-40 test vote fell three votes short of the 60 needed to advance. The vote ends months of political wrangling on the bill and makes congressional action on the repeal provision unlikely any time soon/Associated Press. More here.
Question: Are you surprised by the action in the U.S. Senate?
Raul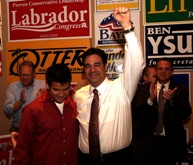 Labrador, the Republican candidate for Congress in Idaho's 1st District, is critical of Democratic Rep. Walt Minnick's vote on legislation that could repeal a policy preventing gays and lesbians from serving openly in the military.  Minnick voted in favor of a plan to end the don't ask, don't tell policy. The change would go into effect if a survey conducted by the armed forces determines that allowing homosexuals to serve openly would not be disruptive. "Mr. Minnick's vote is a disappointment to me, and disappointment for most Idahoans," Labrador, a state representative from Eagle, said in a statement on his campaign website/Brad Iverson-Long, Idaho Reporter. More here. (AP Photo: Matt Cilley)
Question: Will Minnick be helped or hurt by his vote to repeal "don't ask, don't tell" legislation?