Everything tagged
Latest from The Spokesman-Review
While others were living out their high school years attending prom and going to homecoming football games,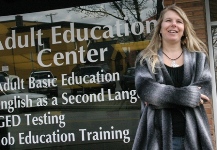 Shannon Derby, pictured, was just struggling to fit in. Derby's family moved a lot making high school a challenge for the teenager, who attended 10 different schools by the time she was a junior in high school. She was constantly starting over and trying to make friends while struggling to keep up on her school work and meet the requirements to advance grade levels. Midway through her junior year, when her parents announced they were planning to move again, Derby decided to drop out/Stacy Hudson, Press Room. More here.
Question: Did any of you drop out … only to get your GED and go to college? Can you describe that experience?