Everything tagged
Latest from The Spokesman-Review
The alleged theft of a $2 bottle of ibuprofen could lead to weeks of legal headaches for a Spokane man.
Michael Ewing was arrested Saturday after an undercover officer at an East Central grocery store said he saw the 52-year-old sneak a bottle of off-brand painkillers into his pants pocket. The officer approached Ewing when he went to pay for other purchases, and several witnesses said when the officer informed Ewing he would be placed under arrest, he began swinging his fists wildly, striking the officer in the eye. Store employees and the officer eventually subdued Ewing by placing him in handcuffs, according to court documents.
Prosecutors initially sought a charge of first-degree robbery for Ewing, who has two prior felony convictions back in the late 1970s. But at a first appearance in Spokane County Superior Court on Monday, Judge James Triplet ruled prosecutors had only proven probable cause for lesser charges of assault and theft.
Ewing was released from custody without bail. He is due in court to address the charges later this month.
Ready for a little more Walmart?
Wal-Mart Stores will open its second Spokane Valley location on Oct. 17. That's next Wednesday.
The new store, on East Sprague, is east west of the Costco store on Sprague.
It plans to have roughly 350 full- and part-time workers, according to a company news release.
The average wage for full-time hourly workers is $13 per hour, the company said.
It will have 148,000 square feet of space and will be open 24 hours a day.
A ribbon-cutting ceremony at 7:30 a.m. will open the store, followed by checks handed out to a number of local groups, including Greater Spokane Meals on Wheels and Spokane Valley Partners.
Don't be fooled. This is not a Tim Note endorsement.

Ta-da! Below is one of the new bike racks on East Sprague. Dig the design. They were purchased by the East Sprague Business Alliance, who are working to improve the neighborhood, recognizing it as the Spokane International District. There was definitely a need with increased bike traffic to the Pedals2People shop location and no racks prior. Not to mention One World Cafe, The Checkerboard, Flying Pig, Strong Solutions, Vien Dong and all the other awesome things happening here.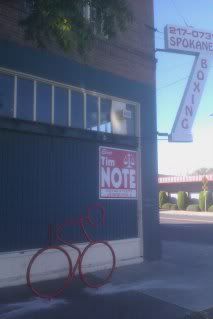 Photo by John Speare from "East Sprague got racked" on Cycling Spokane. Go here for larger view.