Everything tagged
Latest from The Spokesman-Review
A northwestern Montana couple involved in the largest animal hoarding case in Idaho history were charged with animal cruelty re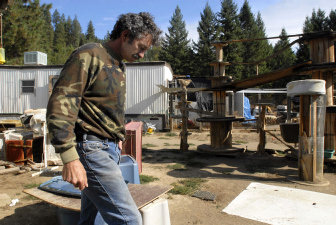 cently after authorities found more than 100 cats living in their two small feces-filled trailers last month.
Edwin (pictured in 2006) and Cheryl Criswell face felony aggravated animal cruelty after police seized the cats Dec. 22 in Marion, Mont.
They were booked into Flathead County Jail on Friday. The maximum sentence is up to two years in jail and a $2,500 fine.
It's not the first time the Criswells have faced animal cruelty charges.
In September 2006, they were convicted of misdemeanor animal cruelty in the largest animal hoarding case in Idaho history.
Read the rest of Chelsea Bannach's story here.
Past coverage:
Feb. 13, 2010: Hoarders have 40+ more cats