Everything tagged
Latest from The Spokesman-Review
North Idaho College's declining enrollment is getting a lot of attention lately, and it will continue to as administrators and trustees seek to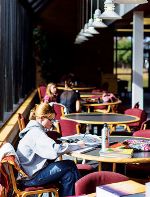 cut $2.3 million from next year's budget. Enrollment declined by 11 percent this year and is expected to drop another 10 percent next year, and with fewer students come less tuition dollars, a source of revenue that represents more than a third of NIC's current $44.8 million budget. NIC President Joe Dunlap and Athletics Director Al Williams pointed to the enrollment drop when they recently recommended that the college switch from a national athletics conference to a less costly regional community college sports association. The trustees will meet Thursday to decide whether to follow that recommendation, a move expected to chop an estimated $600,000 per year from the college budget. Department heads at the college are preparing their initial budget presentations now, said NIC spokesman Mark Browning/Maureen Dolan, Coeur d'Alene Press. More here.
Question: Have you or a member of your family been served by North Idaho College?
Trail developer Mark Pinch stops to enjoy the view from the top of the 552-acre Saltese Uplands, an area of Liberty Lake that was recently purchased through Spokane County's Conservation Futures program. SR photo/J. Bart Rayniak
One of the highlights in today's Valley Voice is a story by correspondent Jill Barville on the new Saltese Uplands natural area. Spokane County is working to buy the 552 acre property south of Liberty Lake off Henry Road as part of the Conservation Futures program. A trailhead will be built on Henry Road next year and hikers and bikers will be able to enjoy a network of seven miles of trails.
Reporter Lisa Leinberger has a report on enrollment in the Central Valley, West Valley, East Valley and Freeman school districts. Most of them have larger numbers of students, but enrollment at East Valley's Continuous Curriculum School took a huge jump. This week the Spokane Valley City Council debated the need for a facility to precess water and debris removed from the city's numerous drywells. A decision on whether to apply for a grant for the project will likely be made at the Nov. 15 council meeting.
Reporter Pia Hallenberg has a touching story on Libby McGrory, who has battled breast cancer four times. She recently participated in a 200-mile fundraising bike ride called the "Tour de Pink" in California.
The Valley crew has been hard at work this week getting everything ready for Thursday's Valley Voice. Reporter Lisa Leinberger checked in the local school districts (East Valley, West Valley, Central Valley and Freeman) to see how district enrollment is doing. We'll have a story on the new Saltese natural area and a report on Tuesday's Spokane Valley City Council meeting. There was a lengthy discussion on stormwater projects that are eligible for grant money. There were a bunch of other topics covered, but those will have to wait until Saturday's Valley Voice. Don't forget to pick up your paper in the morning to check out the stories.