Everything tagged
Latest from The Spokesman-Review
Dan Roberts, left, and Frank Thomas are shown in this artist rendering as he appear in a federal courtroom in Gainesville, Ga., on Wednesday. The two and two other men are accused of planning a terror attack. (AP/Richard Miller)
By GREG BLUESTEIN and JAY REEVES, Associated Press
BIRMINGHAM, Ala. (AP) — On his website, militia leader-turned-blogger Mike Vanderboegh writes about fed-up Americans responding to government violence with guns and grenades. It's an attempt to warn the government that people are armed and angry, he says, just like last year when he urged those upset with President Barack Obama's health care plan to toss bricks at Democratic Party offices.
A few people shattered office windows then, and federal prosecutors now say his online novel about a militia making war against the U.S. government inspired a group of four retirement-age men in Georgia to plot an attack on unnamed government leaders using guns, the highly deadly toxin ricin and explosives.
Vanderboegh said he doesn't know the suspects. He ridiculed the men's plans and chuckled at the notoriety he has gained for his online rants.
"It comes with the territory," he said in an interview from his home in a Birmingham suburb. Vanderboegh hasn't been c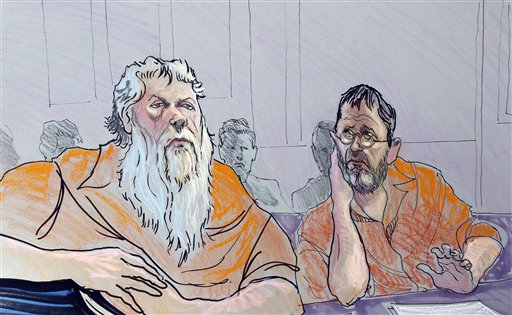 harged with any wrongdoing.
The four suspected militia members allegedly boasted of a "bucket list" of government officials who needed to be "taken out"; talked about scattering ricin from a plane or a car speeding down a highway past major U.S. cities; and scouted IRS and ATF offices, with one man saying, "We'd have to blow the whole building like Timothy McVeigh," a reference to the man executed for bombing a federal building in Oklahoma City in 1995.
Federal investigators said they had them under surveillance for at least seven months, infiltrating their meetings at a Waffle House, homes and other places, before finally arresting them Tuesday, just days after discovering evidence they were trying to extract ricin from castor beans.
The four gray-haired men appeared in federal court in Gainesville, Ga., Wednesday without entering a plea. Frederick Thomas, 73; Dan Roberts, 67; (pictured up top) Ray Adams, 65; and Samuel Crump, 68, (pictured left) were jailed for a bail hearing next week. They apparently had trouble hearing the judge, some of them cupping their ears.
Read the rest of the story by clicking the link below.