Everything tagged
Latest from The Spokesman-Review
"Jackass" star Ryan Dunn, who along with his castmates made Americans cringe and snicker through vulgar stunts in their multimillion-dollar TV and movie franchise, was killed early Monday in a fiery car crash. He was 34. Dunn, a daredevil whose most famous skits included diving into a sewage tank and shoving a toy car into his rectum, was driving his 2007 Porsche in suburban Philadelphia when it went off the road into the woods and burst into flames. A passenger was also killed, and speed may have been a factor in the crash, West Goshen Township police said. Dunn appeared on MTV shows "Jackass" and "Viva La Bam" and the three "Jackass" big-screen adaptations. He also was the star of his own MTV show, "Homewrecker," and hosted "Proving Ground" on the G4 cable network/Associated Press. More here. (Photo: Wikipedia)
Question: Is it strange that a vehicle accident killed Dunn, after all the stupid, dangerous stunts that he survived?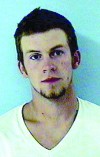 In a Twin Falls News-Tribune story today, Prosecutor Grant Loebs defends his office's department not to assign criminal responsibility to Kade Laughlin (pictured in Twin Falls County Sheriff's Department mug shot) in the crash that killed former Coeur d'Alene High athletes Devon Austin and Ryan Reinhardt near Twin Falls Sept. 12, 2010. Laughlin, 20, of Filer, has been charged with misdemeanor reckless driving for being involved in a chase that led to the crash. Said Prosecutor Loebs: " "This is the most serious charge we believe the evidence supports." Laughlin has been labeled as a killer by individuals sympathetic to the victims' and their families. Times-News story here.
Randy "Macho Man" Savage "chokes" former NBA star Dennis Rodman during a clash in the WCW Road Wild Wrestling Event at the 1999 Sturgis Rally & Races in Sturgis, S.D. Savage died after having a heart attack while driving his Jeep Wrangler (this morning), Fox News confirms. The accident happened in Seminole, Fla. A source tells Fox News that he "suffered a heart attack while driving and hit a tree." More here.
Do any of you follow professional wrestling?