Everything tagged
Latest from The Spokesman-Review
Investigators work the scene where a day earlier Steven Stanbary used a gun to hold off police and firefighters while a house burned to the ground in Washougal, Wash. on Dec. 8. (AP Photo/Zachary Kaufman, Pool)
VANCOUVER, Wash. (AP) — A white supremacist with Idaho ties who is suspected of killing his wife and her sister and shooting at firefighters before he died in their burning home on Dec. 7 had been scheduled to surrend
er the next day to face a child rape charge, authorities said.
Authorities didn't know before the incident that suspect Steven D. Stanbary of Washougal had a history of being heavily armed, schizophrenic, anti-government and violent, Clark County senior deputy prosecutor Dustin Richardson told The Columbian in a story Thursday.
"Had that been clear, the whole process of having an attorney turn him in … might have been different," Richardson said.
Before the fire, Richardson had just a basic criminal history that showed Stanbary had only misdemeanor convictions because more serious charges had been reduced by plea bargains or other circumstances.
It was later learned that police in Idaho had discovered six AK-47s and a grenade launcher in Stanbary's possession during a 1994 arrest. But that case was dropped to a minor assault in a plea deal.
In addition, information emerged that Stanbary had stopped receiving treatment for delusional schizophrenia in 1988 when he refused to take medications. At that time, his then-wife, Debra Hughes, told Idaho police she believed he was dangerous.
Richardson said he might have changed his plans for letting Stanbary turn himself in through his attorney if the records had shown a pattern involving weapons. However, police generally don't seek more information on criminal histories of suspects unless the cases show a specific pattern of criminal behavior or dishonesty, he said.
The prosecutors credited the media for bringing those additional details to light after Stanbary's violent death.
Reports released Wednesday show Washougal police suspect Stanbary molested a girl over a number of years beginning when she was 9 and ending several years before she reported it in December 2010.
Richardson had concerns about several aspects of the case and said he didn't believe he had strong enough evidence to charge Stanbury until late November. Stanbary was supposed to turn himself in with an attorney on Dec. 8.
"He obviously had different plans," Richardson said.
On Dec. 7, gunfire and exploding ammunition kept firefighters away from his burning home. The three bodies were later found inside.
Stanbary's wife, Leona, told police she suspected the girl may have made up the abuse story so she could move out and live with her boyfriend.
"I'll kill him if it happened," Leona Stanbary told the detective, referring to Steven Stanbary, the police report said.
The girl and her boyfriend said in separate interviews with police that Steven Stanbary was a binge drinker who became nasty when inebriated.
Stanbary was arrested in Bonner County in December 1994 after threatening to kill his ex-wife, children and himself. He was found to have numerous weapons, including AK-47s.
WENATCHEE, Wash. (AP) — Wenatchee police have contacted a gang that appeared to be the target of a fire that killed two children and warned it not to retaliate.
Sgt. John Kruse says the gang was told retaliation would be very detrimental to solving the homicide.
Chelan County Coroner Wayne Harris says the boys, 4 and 6 years old, died of smoke inhalation.
The Wenatchee World reports the fire is being investigated as arson.
Police say the duplex has been a target of gang activity in the past, but no one in the house at the time of Thursday's fire is believed to be a gang member.
The boys' father suffered serious burns trying to save them and is in a Seattle hospital.
An account has been created to raise money for the family and funeral expenses of a 67-year-old woman killed in a fire at her northeast Spokane home last week.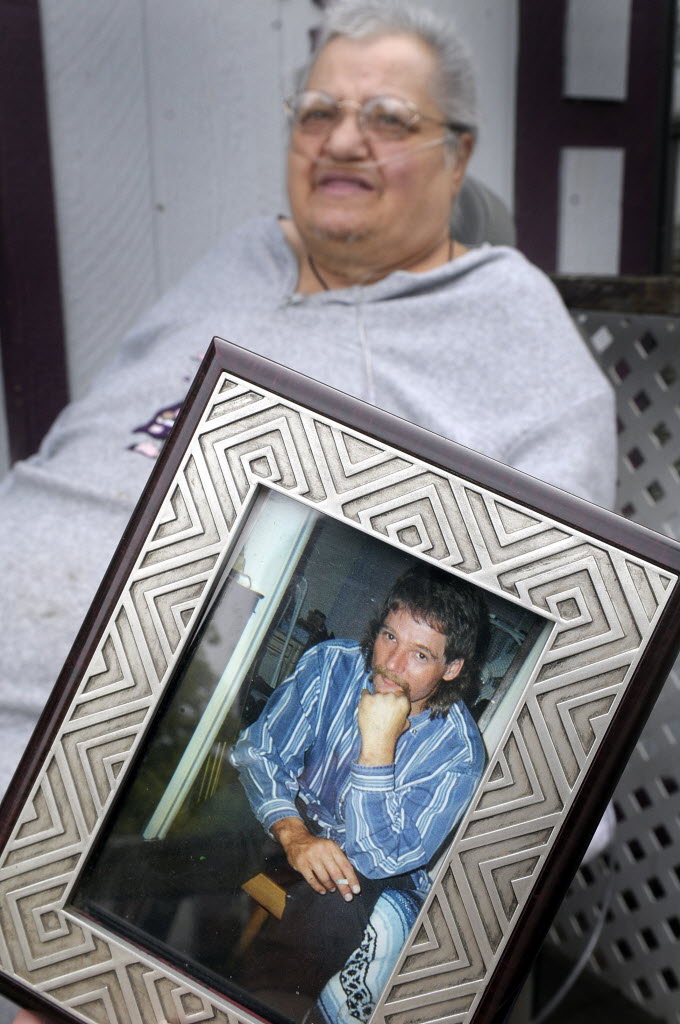 The fire at 4128 E. Princeton Ave. destroyed the home where Inez L. Williams lived.
Family members are hoping to raise funds to pay for Williams' memorial service and burial and for the clean up of the charred remains of Williams' home.
"Everything's for Grandma," said Melissa Hebert, 19.
Williams was an animal lover who knew tragedy well - her other son, Terry Palm, was killed in 2002 in a murder case that remains unsolved.
Williams is pictured in 2008 with a photo of Palm.
Fire officials say Williams died of smoke inhalation July 15 after her cigarette ignited her oxygen supply. Several pets, including at least two dogs, died in the fire.
Donations can be made at any Numerica Credit Union under the account "Memorial account for Inez Williams."