Everything tagged
Latest from The Spokesman-Review
Duane Rasmussen reports from shoreline that downtown Coeur d'Alene that workers didn't wait until 10 o'clock to level the Freedom Tree at McEuen Field. It's down. He's going to try to get a photograph from the top of the Coeur d'Alene Resort garage for us. Stay tuned.
From Parks Director Doug Eastwood: "We met with Team McEuen and Contractors Northwest this morning. One of the agenda items was the contractors construction schedule. The Freedom Tree is scheduled to be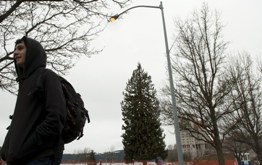 removed this Friday (at about 10 a.m.). The entire park area, including Front Street, will be closed for construction by the end of the day today. The contractor will leave an opening on Fourth and Front Street all day Thursday between the hours of 8 a.m. and 3 p.m. for anyone that would like to take a photo of the Freedom Tree before it is removed. The contractor will salvage approximately 40 feet of the trunk of the tree and transfer the trunk to the Parks Department for future use. Attached are ideas that we have received from people throughout the community on how we might use the wood from the Freedom Tree. Also attached is a historical overview of the tree by Scott Reed, Scott and others planted the tree around 1962. The Freedom Tree is a Norwegian Spruce and it will be replaced with another Norwegian Spruce in the vicinity of the new Veterans Memorial. The new Freedom Tree will be approximately 30 feet in height when it is planted."
Question: Are you interested in taking a photo with the Freedom Tree before it comes down?