Everything tagged
Latest from The Spokesman-Review
This photo by Don Sausser represents what blogfest — and, hopefully, this blog — is all about. Two men with different political views — former state Rep. Gary Ingram, the father of the Open Meeting Law, and former County Clerk Dan English hobnobbing at Steve Widmyer's Fort Ground Grill over a good meal provided by Bent (pulled pork), Steve (mac-and-cheese, baked beans, cookies & venue) & Herb (potato salad). I've been to every blogfest. Of course. I'd rate this one as the. Best. One. Ever. In terms of turnout, camaraderie among a broad spectrum of individuals, and overall vibe. BTW, Dan later bought County Clerk Jim Brannon a beer in a let-bygones-be-bygones move.
I can think of a lot of real champions for open government in Idaho this year. People like Bill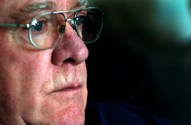 von Tagen, the able and respected deputy attorney general who helped wordsmith the bill and navigate through the Legislature. Or Betsy Russell, the Spokane Spokesman-Review reporter who, as Idaho Press Club president, was a stalwart advocate for a working Open Meetings Law (Disclosure: I am the club's vice president, but Russell championed this bill on the group's behalf). So it is disappointing to see (Gary Ingram, pictured) receive the Max Dalton Open Government Award, and an accompanying $2,000 check, from an outfit called the Idaho Newspaper Foundation. Perhaps it isn't surprising: the foundation's executive director is Tom Grote, publisher of The Star-News in McCall, which editorialized against the bill/Kevin Richert, Idaho Statesman. More here.
Related: Gary Good Guy/Kerri Thoreson, Main Street
H/T: Nick Adams, Arpie
DFO: In his comments in nominating Berry Picker Gary Ingram for the open government award, Publisher Tom Grote viewed it as a "lifetime achievement award." Gary would certainly qualify under that classification. Others, including my compadre Betsy Russell in Boise, might be more worthy in the shorter run. But Gary certainly brought light to Idaho government by fathering Idaho's Open Meeting Law. Do you agree/disagree with me?