Everything tagged
Latest from The Spokesman-Review
GEOCACHING — The Pend Oreille County Geocaching Challenge will debut this month to show off some of the drive up and hike-in treasures in the northeast corner of Washington.
The challenge is being organized so experienced geocachers can jump into the game. With 25 geocaches to find, the challenge ought to take about two days to complete.
Newcomers also can get up to speed with primer events set for July 18:
9 a.m. — Event start
10 - 10:30 a.m. — Intro to Geocaching Class
10:30 a.m. — Challenge Caches Announced
11 - noon — Intro to Geocaching Class
Get your passports for the challenge via the link on the event page (soon to be posted) or at the event.
There will be 50 Geocache Coins made for the event available for each correctly completed passport; one coin per household. (More coins may be ordered later.)
Camping available at the event location for $10 a night.
Booths from the county and local organizations will be on site.
Click here for Pend Oreille County Park and Lodging.
PUBLIC LANDS — The U.S. Bureau of Land Management is trying to get geocaches removed from wilderness and environmentally sensitive areas in Central Oregon.
Geocaches are the containers at the end of high-tech treasure hunts undertaken by hobbyists. They use GPS devices or smartphones to track down the caches, which can contain log books, toys or knick-knacks. Typically, the geocachers take something and leave something in the caches.
The bureau's policy is nationwide, and local bureau officials are working with geocachers to remove 84 of the containers, some seasonal.
The idea is to keep man-made objects out of wild areas and avoid unplanned paths beaten to popular caching sites.
"Geocaching is absolutely a legitimate use of public land, but it's inappropriate in wilderness areas," said Carol Benkosky, district ranger in Prineville.
While geocache containers will be removed by geocachers, Bureau of Land Management spokeswoman Lisa Clark said the bureau won't act against 22 "virtual" geocaches – coordinates that lead geocachers to a particular rock, tree or vista.
"You still have something you'll see there," Clark said. "You just won't have a physical cache there."
Read on for more details about the specific Oregon wilderness areas.
Bill Pierce accidently stumbled across geocaching while hiking Shoshone County's Pulaski Tunnel Trail. Pierce wanted to double-check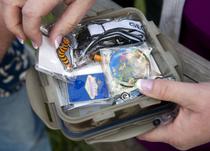 the name of the creek that runs down the ravine before he entered the day's adventure in his journal. Google found him the West Fork of Placer Creek and included a description of a geocache location, where a cache – or a hidden container – was stashed along the trail. "What the heck is that," Pierce remembers thinking, fascinated by the idea that there are 2.3 million geocaches hidden across the world, including more than 2,000 in Spokane County. Players who hide caches share the location online at www.geocaching.com. All anyone needs is a GPS or a smartphone to plug in the GPS coordinates (latitude and longitude) of a location then navigate the directions to find the hidden geocache, which usually includes a log book and perhaps a trinket or coin/Erica Curless, SR. More here.
Question: Have you ever participated in a geocache hunt?