Everything tagged
Latest from The Spokesman-Review
Glen Campbell wants you to know that he has Alzheimer's disease. The pop and countrypolitan icon also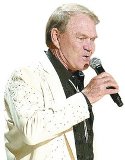 wants you to know that he's facing it head-on, and before the degenerative brain disease takes his memories, his music and eventually his life, Campbell is going to go out doing what he loves, singing and playing for fans on his Farewell Tour. Campbell and wife Kim announced his condition last year in the June issue of People magazine. In late August, the legendary singer/guitarist/actor, best known for country-flavored pop hits including "Rhinestone Cowboy," "Southern Nights" and "Wichita Lineman," released his 61st and final studio album, "Ghost on the Canvas"/Malcolm X Abram, Akron (Ohio) Beacon Journal. More here.
Question: Do you know someone who had the courage to tackle Alzheimer's head on, like Glen Campbell and Tennessee women's basketball Coach Pat Summit (early onset dementia)?
Glen Campbell will play to a sold-out crowd Saturday night in Airway Heights – at Northern Quest Casino. Campbell has been diagnosed with Alzheimer's disease and is on the road doing what he loves best – singing and enjoying his fans.
Campbell's wife and their three children are with him as he travels this country and entertains crowds. While entertaining he offers an object lesson: how to courageously face a future of physical demise while embracing and enjoying the life one has. Now that's something to sing about.
(S-R archives photo)
Adele poses backstage with her six awards at the 54th annual Grammy Awards on Sunday in Los Angeles. Adele won awards for best pop solo performance for "Someone Like You," song of the year, record of the year, and best short form music video for "Rolling in the Deep," and album of the year and best pop vocal album for "21." Story here. (AP Photo/Mark J. Terrill)
HMOffsuite: I normally don't watch the Grammys. But, because of the Whitney Houston passing, I thought I would watch tonight. I happen to get the East Coast network feed on my Directv. So, I got it 3 hours early, live. The tributes to Whitney were tear jerkers and the entire program was quite good. The original Beach Boys are back together for their 50th, including Brian. They did a tribute thing for Glen Campbell who now going downhill rapidly.
Question: What do you enjoy most/least about the 54th annual Grammy Awards?