Everything tagged
Latest from The Spokesman-Review
If the test of a political party's convention is to propel a campaign forward, then the Idaho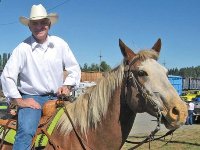 Republican Party Convention in Idaho Falls last month was a massive success. For Democratic gubernatorial hopeful Keith Allred (pictured), that is. Allred senses it, too. Campaigning through Lewiston last week, Allred argued the wacky Republican platform changed the paradigm of the race. Embracing silver and gold for currency? Repealing the 17th Amendment to the Constitution, thereby giving state legislators control over who represents Idaho in the U.S. Senate? That, says Allred, is offering 19th century solutions to 21st century frustrations/Marty Trillhaase, Lewiston Tribune.
Question: Did the extreme platform adopted by the Idaho GOP this summer boost Demo Keith Allred's campaign for governor?
Thursday's Poll: A plurality of 73 of 181 respondents (40%) chose none of the above when asked which of 6 controversial planks from the Idaho GOP platform that they supported. Only 5 of 181 (3%) responded "all of the above." Among individual planks that did receive backing, 54 of 181 respondents (30%) supported a call for an illegal immigration law like Arizona's; 20 (11%) 10th amendment sovereignty; 17 (9%) transgender marriage ban; 5 (3%) loyalty oath; 4 (2%) paying taxes w/gold or silver; and 3 (2%) repeal of 17th amendment.
Today's Poll: Does Idaho need an illegal immigration law as tough as Arizona's?