Everything tagged
Latest from The Spokesman-Review
A farm- themed play structure and a splash pad grace the new Greenacres Park. SR photo/Jesse Tinsley
Greenacres residents have been wanting a neighborhood park for years and finally, the day is here. The Greenacres Park grand opening is Saturday from 10:30 a.m. to noon at 1311 N. Long Road. Kids will find a lot to like there - swings, sand box, splash pad and playground equipment. There are also bathrooms, play fields, plenty of benches to sit on, a large picnic shelter than can be reserved and a 9-hole disc golf course.
The festivities on Saturday will include a one mile family walk, tree planting and a ribbon cutting by Sopkane Valley Mayor Tom Towey. There will also be a fire truck and a police car there for kids to check out. It sounds like quite the event, so be sure to drop by and check it out. Just try not to bother the mother Robin who has a nest on the light fixture next to the men's bathroom door.
Bargain prices, natural and organic offerings, unusual food finds and fun have earned Trader Joe's some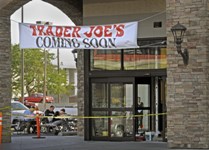 seriously loyal customers. Some scoffed when we suggested in a note to readers last month that fans of the California-based chain were trekking to the other side of state and beyond to stock up on their favorite Trader Joe's staples. But more than two dozen sent notes with the details of their cross-state runs, the extra bags they stow on trips to see family in a Trader Joe's ZIP code and the other shenanigans the beloved store has inspired. … The wait is almost over. The Spokane store in the Lincoln Heights Shopping Center, 2975 E. 29th Ave., opens with a lei cutting at 8 a.m. Friday. Regular hours will be 8 a.m. to 9 p.m. daily/Lorie Hutson, SR. More here. (SR file photo)
In case you missed the ribbon cutting at the second Post Falls WalMart, the Post Falls Chamber of Commerce Facebook photographer was on hand to show you Mayor Clay Larkin handling the grand-opening, scissor duties.