Everything tagged
Latest from The Spokesman-Review
JEERS … to former Congressman Bill Sali, R-Idaho (pictured). For sheer audacity, Sali has few rivals. On Wednesday,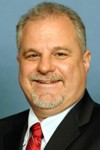 he cornered the market on God. Sali walked into the House Transportation Committee and asked the state to create, finance and market a new vanity license plate with the motto "In God We Trust." He wants $22 from each $35 plate and $12 from each renewal sold allocated to a nonproft group he formed two weeks ago. Joining Sali on the board of American Heritage Foundation are his wife, Terry, and his nephew, Travis Pascoe of Nampa. With the money, Sali promises to educate the public about "foundational principles and history of the United States"/Marty Trillhaase, Lewiston Tribune. More here.
Question: Who would buy a vanity plate to fund Sali's foundation, other than Sali, his wife, and his nephew?
I love a good "issue analysis." Almost as much as a nice, righteous fistfight. Wouldn't it be great if today's Values Voters Summit delivered both? I've got the right guy for fresh, out-of-the-box analysis – Idaho's own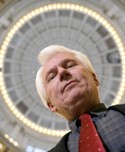 Bryan Fischer, the director of issue analysis for the American Family Association. And I've got a dream that sometime today in the nation's capital among voters of value, between the Heritage Foundation Breakfast and the American Values Luncheon, between "Straight Talk on Gay 'Marriage' " and "How the Welfare State Erodes the Family," Mitt Romney will punch him. Fischer, who was a Boise pastor and right-wing gadfly for 25-plus years, brings a unique bag of nuts to his political analysis. Here's one: Homosexuality caused the Holocaust. Here's another: The government "incentivizes" African-Americans to "rut like rabbits." And another: Native Americans are "morally disqualified" from holding any sovereignty on American soil/Shawn Vestal, SR. More here.