Everything tagged
Latest from The Spokesman-Review
A 19-year-old Oldtown woman was killed in a head-on crash north of Blanchard this morning that closed Highway 41 for five hours. According to ISP reports, Anna M. Hurst was northbound in a Ford Stratus attempting to pass another vehicle when she crashed head on into a 2008 Kenworth truck driven by Michael L. Radan, 41, of Newport, Wash. Radan was injured in the crash, which occurred at 8:02 this morning. Full ISP report here.
Why did the ATV cross Highway 41 in Spirit Lake? Because it's legal. Utility and all-terrain vehicles can now cross Highway 41 in Spirit Lake without being ticketed. State law prohibits the ATVs and UTVs from crossing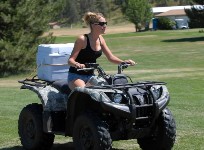 state highways in cities without an encroachment permit - a practice that has been commonplace in small, outdoorsy Spirit Lake nonetheless - but the city obtained a permit from the Idaho Transportation Department to legally allow the passage. "It's been done for years, but the issue started to come up," said Spirit Lake Police Chief Pat Lawless, adding that he was unaware of the state law until last year. His department didn't issue any tickets as a result. But apparently Idaho State Police, which patrols Highway 41, took notice/Brian Walker, Coeur d'Alene Press. More here. (SR file photo for illustrative purposes)
Question: Do you ride an ATV?
A 33-year-old Spirit Lake man was killed early this morning when his 1995 BMW left Highway 41 at Mile Post 17 (near Nautical Loop Road), hit several trees, and burst into flames. Daniel M. Davis died from injuries suffered when he was ejected from the vehicle in the crash that occurred at 2:06 a.m. The vehicle was fully engulfed in flames before first responders arrived. Davis wasn't wearing a seatbelt. Investigation is pending by the Idaho State Police.