Everything tagged
Latest from The Spokesman-Review
File this under "I'm already a bit overweight and I'll deal with it later."
The big news from the Big Lots company is that its stores now are the official outlets for Hostess Thrift items.
Consumers will now be able to visit any Big Lot stores and find the Hostess lineup of treats. Usually at discounted prices.
The company went social on YouTube creating a Twinkie Time video – http://www.youtube.com/user/biglots.
Big Lots has three area stores on Newport Highway up north, on East Sprague in Spokane Valley and on Best Avenue in Coeur d'Alene. For the locator click here.
Hostess is betting on a sweet comeback for Twinkies when they return to shelves next month. The company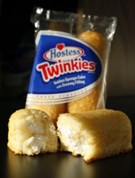 that went bankrupt after an acrimonious fight with its unionized workers last year is back up and running under new owners and a leaner structure. It says it plans to have Twinkies and other snack cakes back on shelves starting July 15. Based on the outpouring of nostalgia sparked by its demise, Hostess is expecting a blockbuster return next month for Twinkies and other sugary treats, such as CupCakes and Donettes. The company says the cakes will taste the same but that the boxes will now bare the tag line "The Sweetest Comeback In The History Of Ever"/Associated Press. More here. (AP file photo)
Question: When did you last eat a Hostess Twinkie?
Many of us ate them in our school lunches: Twinkies, Hostess Cupcakes…the list goes on. But soon, those confections made of…well, some real food and a lot of junk… may live only in our memories. And perhaps on our hips, too.
RIP (retire in plastic?).
May we eagerly enjoy fresh food that will prolong our longevity, instead of gobbling up the well-preserved confections of yesteryear.
(S-R archives photo)