Everything tagged
Latest from The Spokesman-Review
Heath Barnes and Tish Ghigleri used to make a living shipping Palouse-grown chickpeas across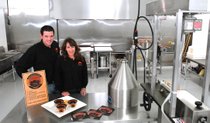 the country. Now they're diverting some of those shipments into hummus for Inland Northwest eaters with their new business, Bronzestone Corp. Barnes and Ghigleri, who worked for the Pacific Northwest Farmers Cooperative in Genesee, Idaho, say they were struck by how much of the local chickpea crop was shipped across the country to hummus makers. Barnes was a commodities merchandiser and Ghigleri a logistics coordinator for the cooperative until six months ago, when they left to focus on their new business/Lorie Hutson, SR. More here.
Question: How often do you eat hummus?
Lebanese chefs prepare a massive bowl of hummus, weighing 22,046 pounds or 10,452 kilograms the size of Lebanon in square kilometers, during a bid to break a record previously held by Israel and reclaim ownership over the popular Middle Eastern dish, in Fanar, east of Beirut, Lebanon, Saturday. Some 300 Lebanese chefs prepared the huge hummus plate and doubled the record achieved by cooks in an Arab town near Jerusalem in January that weighed around four metric tons and broke a previous record held by Lebanon. A Guinness World Records adjudicator confirmed that Lebanon now holds the record. (AP Photo/Hussein Malla)
Question: On a scale of 1 to 10, how much do you like hummus?
I was at a party at my sister-in-law's house a few years ago, gobbling up hors d'oeuvres like a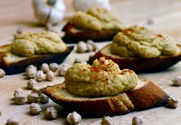 wolf at a lamb-shank cook-off. "Good stuff," I mumbled during bites. My wife pulled me aside. "You know those canapes are made with hummus, don't you?" I had to go rinse my mouth out with a beer. Hummus, you see, is so wrong on so many levels to a true Idahoan. It's an ancient dish of Middle Eastern origin, made with mashed garbanzo beans, tahini (sesame-seed paste), olive oil, lemon juice and garlic. Popular in the Western world just now, it's all the rage with vegetarians and vegans. As such, it's a clear and present danger to Idaho's cherished meat-and-potatoes culture/Steve Crump, Twin Falls Times-News. More here.