Everything tagged
Latest from The Spokesman-Review
The Idaho State Senate leadership today pulled a dozen members of Occupy Boise out of the Senate Gallery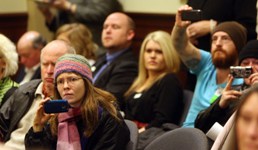 to discuss cloth, dollar-store American flags pinned to each individual's shirt. In the Minority Caucus room on the fourth floor of the Capitol, Idaho Falls Sen. Bart Davis asked them to remove the flags. "We have asked many people over the years, people I have agreed with and I have disagreed with," said Sen. Davis. "To not wear buttons, and to not wear hats, and we're asking you please to be similarly sympathetic to allow us to do our business in that fashion"/Andrew Crisp, Boise Weekly. More here. (Earlier in the session, Occupy Boise members record the proceedings at an Idaho House State Affairs Committee hearing)
Question: Did Idaho legislators react properly/overreact to the flags worn by Occupy Boise members?
According to the Environmental Working Group (EWG), which hosts an online database detailing federal ag subsidies between 1995 and 2009, about $4.3 million from the United States Department of Agriculture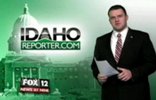 (USDA) has found its way into the pockets of Idaho state legislators. Subsidies come in a variety of forms, including money for commodities when prices drop below federally-mandated levels, direct payments, and disaster recovery funds. A number of those receiving federal dollars have voted to push back on the federal government in years past or ran on a limited government ticket in 2010. Those lawmakers contacted had a common explanation – the federal government is very involved in agricultural production and pricing. They would prefer it to be otherwise, but market realities dictate that the payments are part of their farming and ranching operations/Dustin Hurst, Idaho Reporter. More here.
Question: Is it hypocritical to blast the federal government on one hand and accept farm subsidies with the other?