Everything tagged
Latest from The Spokesman-Review
As the brouhaha dies down over Idaho's initial rejection, then change of heart on allowing Five Wives vodka to be sold in the state – despite concerns that the name could be offensive to the state's Mormon population –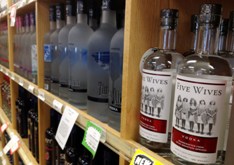 Gov. Butch Otter says his state liquor division chief did the right thing. "They did the right thing in saying, 'If people want to special order it, we'll do that,' " Otter said. Last month, Idaho banned the sale of the Utah-made vodka in Idaho state liquor stores and barred it from special-order sales as well. The provocatively named liquor's label features a picture of five women tucking up their skirts from an old-fashioned, racy vaudeville act. "Jeff Anderson let me know that there was some controversy," Otter said of his state liquor chief. "They run the department. They're the ones that know what they've got the shelf space for, what items move, what don't"/Betsy Russell, Eye On Boise. More here. (AP file photo)
Question: Has anyone purchased Five Wives vodka since the controversy receded?
The Idaho State Liquor Division has announced that it will make Five Wives Vodka available in Idaho by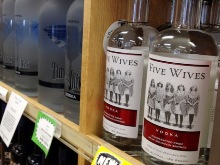 special order "to avoid unnecessary litigation." In a news release, state Liquor Division Director Jeff Anderson said the division will immediately begin accepting special order request for the Ogden, Utah-made product, which it previously had declined to carry, in part because it deemed the brand offensive to the state's substantial Mormon population. "In a shared desire to avoid unnecessary litigation costs to Ogden's Own Distillery and the people of Idaho, today we have informed the makers of 'Five Wives' vodka that we will immediately begin processing special order requests for both on-premise licensees and retail customers," Anderson said/Betsy Russell, Eye On Boise. More here. (AP photo)
Question: Should the state of Idaho send Five Wives Vodka a bill for all that free publicity?
New York City's proposed ban on super-sized sodas is an insufferable "nanny state overreach." But Idaho's ban on Five Wives vodka could be worse, says Wayne Hoffman, executive director of the Idaho Freedom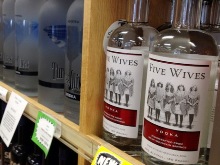 Foundation, a conservative lobbying group. Idaho's state-run liquor dispensary banned the Utah-produced Five Wives brand, saying its references to polygamy could offend Mormons. Writes Hoffman, in his weekly column: "Neither state law nor the regulations of the liquor division provide a mechanism for the director to ban the sale of a product based on perceived offensiveness. And nowhere in state law or state regulations are the standards for what might be deemed offensive or how that determination might be made"/Kevin Richert, Statesman (w/full column by Wayne Hoffman of Idaho Freedom Foundation). More here. (AP photo)
Question: Which ban do you consider worse — Idaho's ban on Five Wives Vodka? Or New York's ban on super-sized sodas?