Everything tagged
Latest from The Spokesman-Review
Traveling in Ireland for the first time a few years ago I was struck by the fact that everyone – everywhere –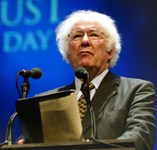 seemed to have a book under their arm or clutched in hand. Everyone it seemed was lost in words, heads in books. Crossing the Shannon on a car ferry the truck driver next to our rental car had a big volume propped up on the steering wheel. He had obviously taken in the lovely scenery before. Now his lovely book had his full attention, if only for a few minutes. One wonders why Ireland, a country with 4.5 million people, has produced so many of history's greatest men – yes, mostly men – of letters. Shaw and Joyce, Behan, Beckett and Oscar Wilde. Now another of the greatest – the poet and Nobel Laureate Shamus Heaney – the greatest Irish poet since the great William Butler Yeats is gone/Marc Johnson, The Johnson Report. More here.
Question: Who is your favorite Irish author or poet?
I love Ireland – the people, the landscape, the literature, the history, well some of the history, anyway. But most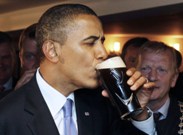 of all, as I have enjoyed the coverage of Obama and Michelle sipping a Guinness in a pub in Moneygall, I like the notion that everyone has some of the Irish in them. It can't hurt the president's standing with Irish-American and Catholic voters that he was welcomed like a rock star – the Kenyan Bono? – in the old sod. While the stout sipping photo op got most of the play, the best photo I saw was of Obama hoisting high a darling, red haired Irish lass of maybe three or four. She displayed classic smiling Irish eyes as the black/white/Irish/Indonesian/Kenyan/Christian/Muslim president beamed back at her/Marc Johnson, The Johnson Report. More here. (AP photo: Barack Obama drinks Guinness beer as they meet with local residents at Ollie Hayes pub in Moneygall, Ireland, the ancestral homeland of his great-great-great grandfather Monday.)
Question: Marc says he likes the notion that everyone has some Irish blood in them. I don't. How about you?
A severe shamrock shortage is threatening St. Patrick's Day in Ireland and the "wearing of the green," according to leading botanist Dr. Declan Doogue of the Royal Irish Academy.
The shamrock was "hit hard" by the severe winter weather and "won't be easily found" this week, said Doogue, who also stated the national plant was under threat because of modern farming methods. More here.
Hope this news doesn't put a crimp on your festivities. I think I celebrated enough  on Friday, but do you have any special celebrations planned for tomorrow?