Everything tagged
Latest from The Spokesman-Review
Police today arrested a convicted killer accused of trying to kill another man in a stabbing Monday night north of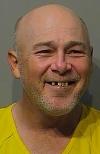 Coeur d'Alene. James H. Kountz, 56, was arrested about 5:40 p.m. in the same wooded area near U.S. Highway 95 and Wilbur Avenue where he stabbed another transient, James R. Hoglen, 42, on Monday. Kountz has a long criminal history that includes an involuntary manslaughter conviction in California. He was originally arrested for murder in 1989, said Sgt. Christie Wood, spokeswoman for the Coeur d'Alene Police Department. Kountz has amassed arrests from traveling all over the United States, Wood said. He's been in the Coeur d'Alene area for about a year. Wood said police have arrested him three times for aggravated battery and contacted him several other times for trespassing/Meghann Cuniff, Sirens & Gavels. More here.
Question: Is it time to clean out the transient camp in the woods behind Target?

The North Idaho Violent Crimes Task Force has located wanted subject James H. Kountz. Kountz was taken into custody at 5:40 p.m. today. He was located in the same wooded area where the stabbing occurred Monday evening Near US Hwy 95 at Wilbur Avenue. Kountz had an outstanding warrant for attempted 2nd degree murder. The victim in this case, James R. Hoglen, 42, originally of Reno, Nev., and currently a transient is in stable condition with no life-threatening injuries/Sgt. Christie Wood, Coeur d'Alene Police Department.
Update: Sgt. Christie Wood tells Hucks Online that there's nothing new in search for suspect, other than fact that he faces attempted 2nd degree murder charges & a bail of $100,000 when caught.
Coeur d'Alene Police officers, Kootenai County Sheriff's Department and Idaho State Police responded to the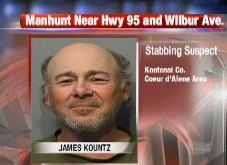 area of US Hwy 95 at Wilbur Ave at 6:00pm for the report of a stabbing. Motorist reported seeing a male stagger out of the wooded area on the east side of Hwy 95 and cross over the highway to the grassy highway divider. The male victim collapsed in the grass and bystanders provided basic first aid to his wounds. Officers arrived and also provided first aid while waiting for EMT's to arrive. A 42 year-old male transient sustained multiple stab wounds to his upper torso and one on his face. He was transported to KMC and is currently in stable condition. He was able to provide the name of the suspect who stabbed him as James H. Kountz. Kountz is a 43 year-old transient and is known to law enforcement for prior arrests for aggravated battery. Officers immediately shut down US Hwy 95 at Canfield and Wilbur as well as surrounding streets in order to contain the suspect in the wooded area/Sgt. Christie Wood, Coeur d'Alene Police Department. (KHQ photo) More below.