Everything tagged
Latest from The Spokesman-Review
From Pullman — The pads went on Tuesday's and the Washington State football team had easily its most spirited practice of the spring. There was constant hollering from the sidelines, a few light scuffles broke out and the coaches didn't seem to mind a bit.
Our practice report is after the jump.
…
Mid-afternoon on Monday, the sign outside the most prominent coach's office in the Kibbie Dome still read:

"Robb Akey, Head Football Coach." A few hours earlier, Jason Gesser had met with the media for the first time as Idaho's interim coach. And 18 hours before his introductory news conference, he first heard that Akey – his former boss and coach at Washington State – had been fired. "It's been a whirlwind," Gesser said. Gesser had yet to process all that had unfolded, and he was at a loss to explain how he found himself – at the age of 33 and in his second year as a collegiate coach – running an FBS program. But he had plenty to say about his vision for the Vandals football program/Josh Wright, SR. More here.
Question: Isn't 33 way too young to be head coach of a top division college football team?
This morning Jason Gesser met with reporters for the first time after being named Idaho's interim head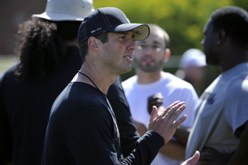 football coach. The 33-year-old former Washington State quarterback, wearing a black pinstripe suit with a gray tie, started crying a few minutes into the press conference when talking about the influence that Robb Akey, the man he's replacing, has had on him. "Akey's been everything for me," Gesser said. "The guy means a lot. … I mean, I owe my life to the guy"/Josh Wright, SR SportsLink. More here. (Dan Pelle's SR file photo of Jason Gesser earlier this fall)
Question: Do guys cry too much today?