Everything tagged
Latest from The Spokesman-Review
Generally, OfficeHours really likes good data visualizations. We were heartened to see that LATimes.com runs word and concept diagrams on many search terms. So this is the relationship chart at LATimes.com for the word Spokane.
We don't really get it, however. Whatever the system is, the results are a grab-bag of uncertain connections.
We certainly hoped there would be some connection between Spokane and a number of stellar athletes, say, Jeremy Lin. But all we see are some expected links — John Stockton, being obvious. Who's Aaron Gray? (Jordan Farmar? Doesn't he play hoop, but using his name here won't generate any hits, not the way Jeremy Lin does.)
The celebrity bubble produced three names: Dylan, Bon Iver and Chuck D. I'll give a $3 Starbucks card to the first person who can establish why the The Times site links those three with "Spokane."
The ESPN editor fired Sunday for using "chink in the armor" in a headline about Knicks phenom Jeremy Lin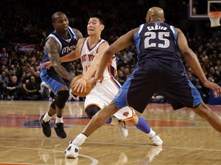 said the racial slur never crossed his mind - and he was devastated when he realized his mistake. "This had nothing to do with me being cute or punny," Anthony Federico told the Daily News. "I'm so sorry that I offended people. I'm so sorry if I offended Jeremy." The headline - "Chink in the Armor: Jeremy Lin's 9 Turnovers Cost Knicks in Streak-stopping Loss to Hornets" - appeared on ESPN's mobile website at 2:30 a.m. on Saturday and was removed by 3:05 a.m. Battling to contain a furor, the sports network fired Federico/Irving Dejohn & Helen Kennedy, New York Daily News. More here. (AP photo: New York Knicks' Jeremy Lin, center, drives through Dallas Mavericks' Vince Carter, right, and Dominique Jones)
Question: Is ESPN over-reacting to an honest mistake? Or is it acting appropriately whether or not the mistake was intentional?