Everything tagged
Latest from The Spokesman-Review
Your truly, the Office Hours scribe, appeared today on KHQ.com, interviewed by Dave Cotton.
Topic was today's Spokesman.com story on Spokane inventor John Adrain, who has developed the Bed Bunker, a gun safe meant to be hidden under one's mattress.
Here's the video. Now you know why I write and don't appear on TV.
John Adrain is a lukewarm fan of Stephen Colbert, the cable-TV comedian who slices up hypocritical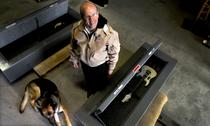 politicians and skewers fat cats on his popular show "The Colbert Report." But Adrain is singing Colbert's praises this month. A segment last week on Colbert's show featured Adrain and his Bed Bunker, a 1,300-pound steel gun case that sits under a queen bed in place of box springs. Colbert's producers featured a clip from Adrain's business website in which the Spokane inventor pulls out a shotgun from the safe, cocks it with one hand and smiles at the camera. Colbert makes the same hand motion of cocking the gun and repeats the cocking sound – chuh-chik – and says, "That's like a lullaby"/Tom Sowa, SR. More here.
Question: So what does it take to get you to buy one of these "bed bunkers"?