Everything tagged
Latest from The Spokesman-Review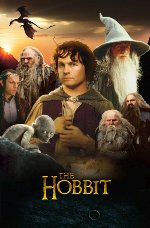 Did you realize that Hobbit Day is tomorrow, Sept. 22. Hobbit Day, according to Wikipedia, is the birthday of the hobbits Bilbo and Frodo Baggins, two fictional characters in J. R. R. Tolkien's popular set of books The Hobbit and The Lord of the Rings. In the books both Bilbo and Frodo were said to be born on September 22, but of different years. Bilbo was born in the year of 2890 and Frodo in the year of 2968 in the Third Age (1290 and 1368 respectively in Shire-Reckoning.) Also, J.R.R. Tolkien released his celebrated work, "The Hobbit" 75 years ago today here.
Question: How old were you when you first read "The Hobbit" and "The Lord of the Rings"?
I've noticed life mimicking art lately. For example, the oil spill in the Gulf reminds me of a passage from J.R.R. Tolken. He wrote, "The dwarves delved too greedily and too deep." I find it to be a perfect statement of what is happening to our society today/Ilya, UI Argonaut. More Off The Cuff.
Question: Are there any other life lessons that can be learned from J.R.R. Tolkien's books about Hobbits and Middle Earth?